AWE Audi Allroad 2.0T Exhaust System
$1,84500

$1,845.00

Save $97.11
Availablity: Backordered, Contact us for accurate ETA
---
Low Prices. Price match guarantee
Guaranteed Fitment. Always the correct part
In-House Experts. We know our products
Superior Selection. Extensive catalog
---
AWE Tuning Product Description

The AWE Tuning Audi allroad Touring Edition Exhaust
The AWE Tuning Audi allroad Touring Edition Exhaust rises to the standard of all AWE Tuning Performance technology. AWE Tuning Research and Development has yielded an exhaust that is remarkably civil while idling / part throttle cruising, but unleashed at full throttle it produces what some have called a "war-cry wail." Our exhausts are like bespoke suits: each is hand-made utilizing only the finest materials, and they command respect while never losing composure…Sophisticated, refined, and powerful, all in one package. Perfect for the allroad.
Highlights
Featuring AWE Tuning 180 Technology
Crafted from mandrel bent T-304 Stainless Steel
Dyno proven gains of +8-9 Horsepower and +6-7 lb ft of torque at the crank
Available with Polished Silver or Diamond Black 102mm Tips
Engineered, developed and tested in-house Perfect fitment
Works perfectly with existing allroad valence
About the project
The allroad's stock exhaust system is full of crimped tubing that hurts exhaust flow and robs horsepower. The AWE Tuning Audi allroad Touring Edition Exhaust was designed using CAD modeling software to produce smooth, gradual bends, specifically engineered to eliminate any interruption to the flow of exhaust gasses. AWE Tuning's improvements to the exhaust path result in gains of 8-9 horsepower and 6-7 lb ft of torque at the crank.In addition to achieved power gains, replacing the large, restrictive factory mufflers also unlocks the tone of the 2.0T engine. Our exhaust systems give the 2.0T a civilized, more melodious voice, with specific attention paid to low rpm situations at part throttle.
Sound Perfection: AWE Tuning 180 Technology
As exhaust gases exit the 2.0T engine and flow into an AWE Tuning 180 Technology equipped resonator, they pass through strategically located ports, and into reflection chambers. Sound waves, carried by these exhaust gasses, bounce off the walls of the reflection chambers. By controlling the size and location of the ports and the chambers, we also control when the sound waves exit the chambers. The specific timing of when the reflected sound waves re-join the main exhaust flow creates a one-hundred-and-eighty-degree out-of-phase sound wave that cancels out problematic frequencies. More on AWE Tuning 180 Technology in the tab above.
Tip Options and Valence
The AWE Tuning Audi allroad Touring Edition Exhaust is available with your choice of Polished Silver or Diamond Black 100mm (4 inch) slash cut tips designed to work with the factory allroad rear valance -- which allows for perfect fitment of one 102mm tip per side of the car. Each tip sports an engraved AWE Tuning logo and is double-walled to ensure a mirror polish, even under hard usage. AWE Tuning Audi allroad Touring Edition Exhaust tips are individually adjustable, so stagger and depth into bumper can be set according to personal taste.
Additional sound level tuning
For the enthusiast interested in a more aggressive sound, we offer the AWE Tuning Audi 2.0T Resonated Downpipe. By replacing the large stock resonator with a more compact but still straight through unit, we were able to increase sound volume while adding a slightly deeper tone. The AWE Tuning Audi 2.0T Resonated Downpipe will mate to our exhaust system or any other exhaust designed to work with the stock downpipe.
Please note:
The AWE Tuning Audi 2.0T Resonated Performance Downpipe cannot be returned or exchanged based upon sound satisfaction.Audi hit it out of the park with the new Allroad design, and we're pleased to be able to add power, tone and additional aggression to an already beautiful vehicle.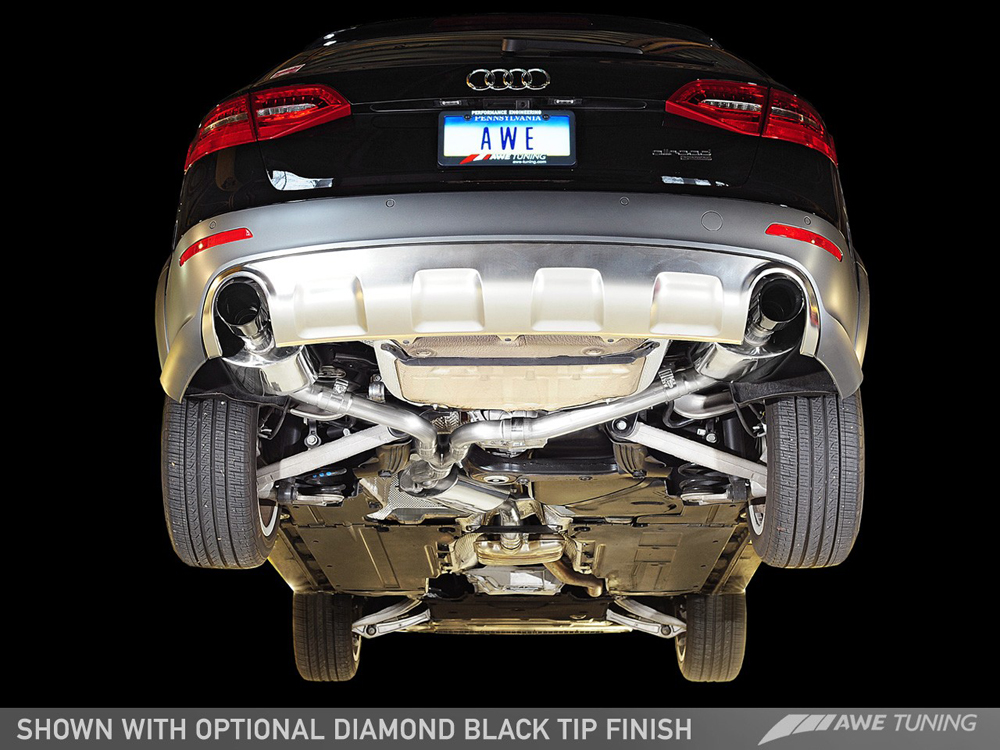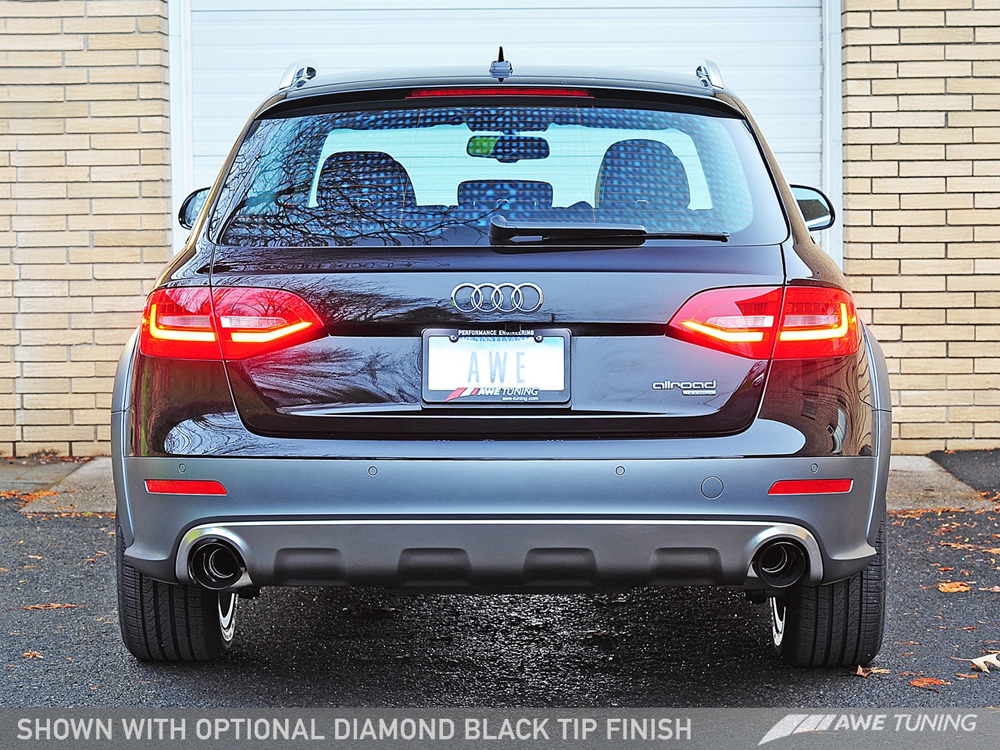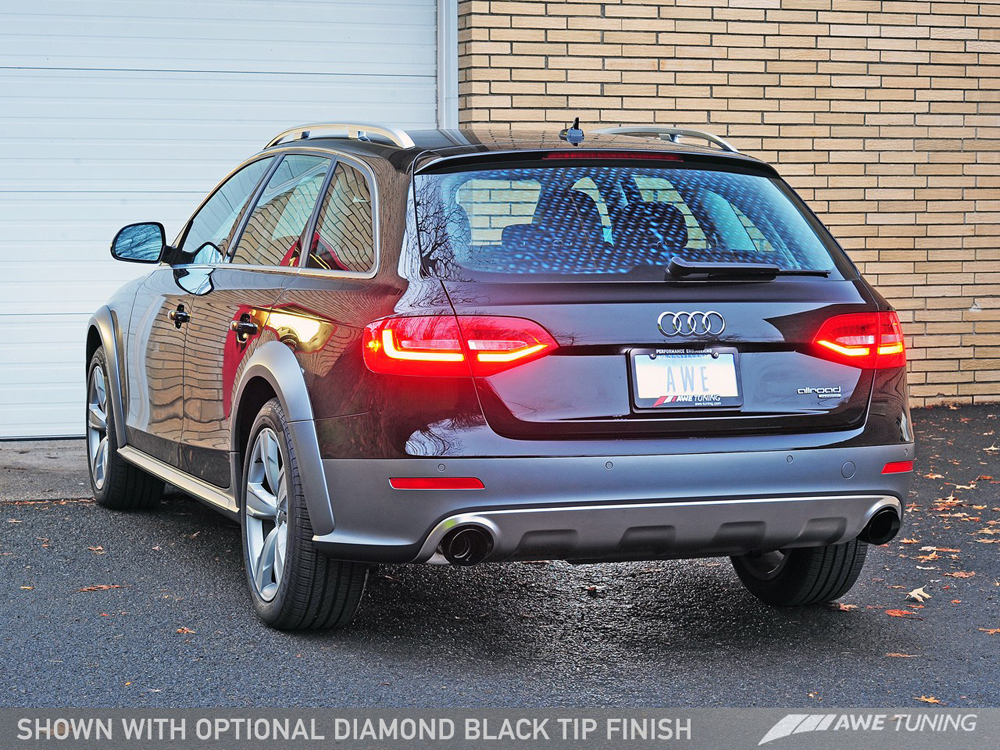 | Make | Model | Submodel | Engine | Drivetrain |
| --- | --- | --- | --- | --- |
| Audi | B8 Allroad | | 2.0T | |
---
AWE Tuning has one vision: To Unlock Performance. From award-winning handcrafted performance exhausts to track-tested carbon fiber intakes and performance intercoolers. AWE state-of-the-art headquarters is located outside of Philadelphia, Pennsylvania. Since 1991, AWE's elite team of researchers, engineers, innovators and drivers have track-tested and introduced premium performance upgrades for some of the finest automobiles in the world, and specifically on Audi, Volkswagen, BMW, Porsche, McLaren, Mercedes.