AWE Audi B8 A4 3.2L Exhaust System
$1,79500

$1,795.00

Save $94.47
Availablity: Backordered, Contact us for accurate ETA
---
Low Prices. Price match guarantee
Guaranteed Fitment. Always the correct part
In-House Experts. We know our products
Superior Selection. Extensive catalog
---
AWE Tuning Product Description

The A4 3.2L Touring Edition Exhaust features an x-pipe for enhanced exhaust tone and specially designed Helmholtz Resonators. In other words, refined yet pronounced tone, uncompromised power.
"With the knowledge gained over hundreds of hours developing the Helmholtz resonators for the 3.0T engine…" states Ron Mangus, AWE Tuning's Manager of Fabrication, "…we set out to develop a refined option for the A4 3.2L that would set a new standard, and that's exactly what our team accomplished."
The A4 Touring Edition Exhaust is the perfect performance compliment for the daily driver looking to get more out of the A4 3.2L.
Highlights of the system:
Hand-crafted, every detail of these exhausts was labored over to ensure maximum performance and longevity:
+ 8hp, +7tq at the crank
Increased pipe diameter to 2.5" to better let the engine exhale
Strategic elimination of mufflers to release tone when uncorked
Available with Polished Silver or Diamond Black adjustable tips
Engineered, developed, tested and manufactured in-house
Thick .065" wall T304 stainless steel tubing
Stainless steel TIG welds
High quality stainless steel band clamps
Stainless steel center muffler with OEM grade stainless steel wool and German composite packing material
Optional Downpipes for fine tuning sound volume
Lifetime Warranty
Tips and valences:

The A4 3.2L Touring Edition Exhaust is customizable with either:
Dual 90mm (3.5 inch) tips designed to work with the stock rear valance
Quad 90mm (3.5 inch) slash cut tips designed to work with either:

Our Non S-Line Quad Tip Rear Valance for Non S-Line cars (on this page under "related products" - the most cost effective solution); or
An Audi OE S4 rear valance for S-Line cars only
Each tip variation is available in standard Polished Silver or our recognized Diamond Black plating. The tips sport engraved AWE Tuning logos and are double-walled to ensure a mirror polish, even under hard usage. Each tip is individually adjustable, so stagger and depth into bumper can be set according to personal taste.
Resonated Downpipes versus Stock:
For A4 owners looking to fine tune the exhaust note of the Touring Exhaust, we suggest adding AWE Tuning Resonated Downpipes. AWE Tuning Resonated Downpipes feature larger than stock resonators in order to produce a mellow, yet also pronounced sound.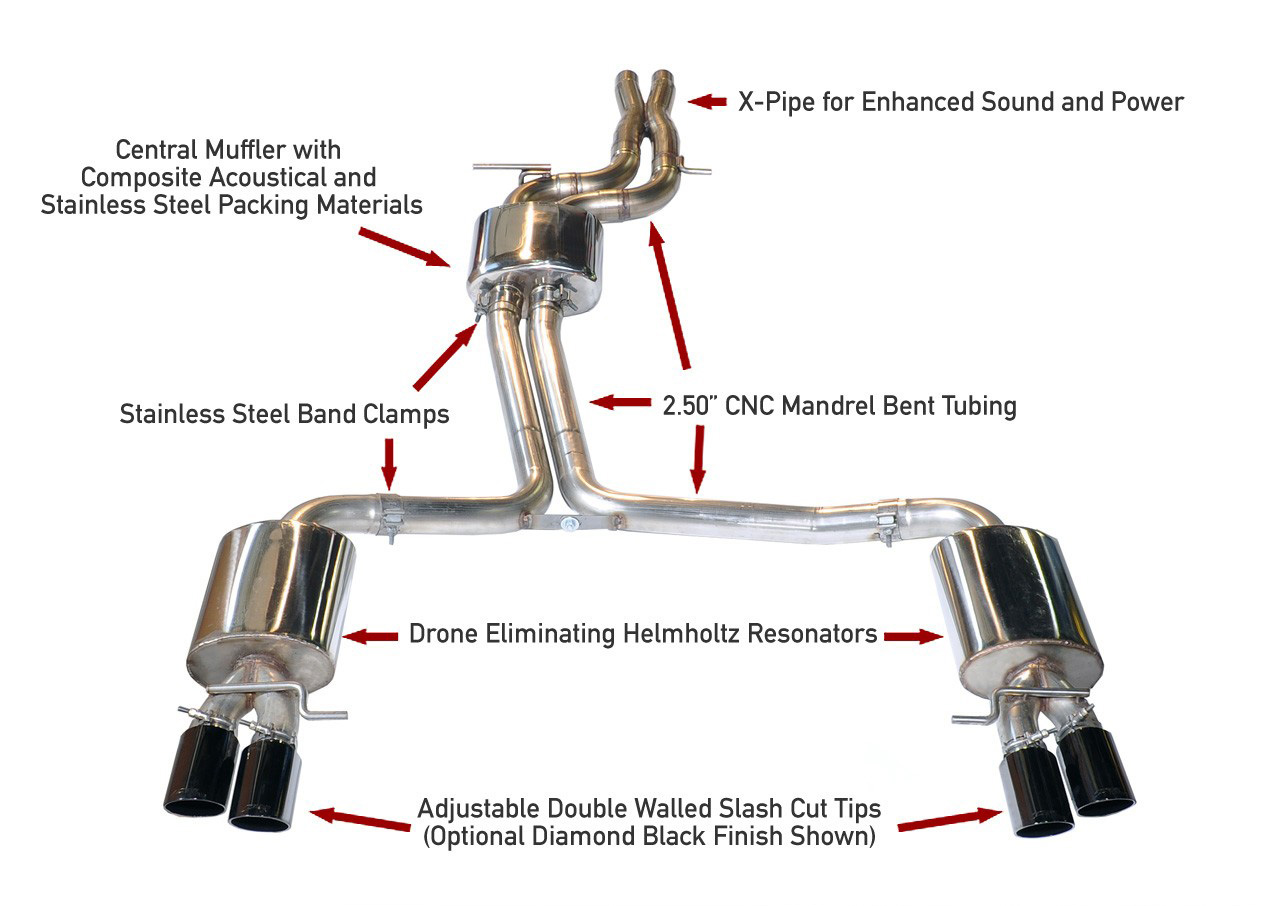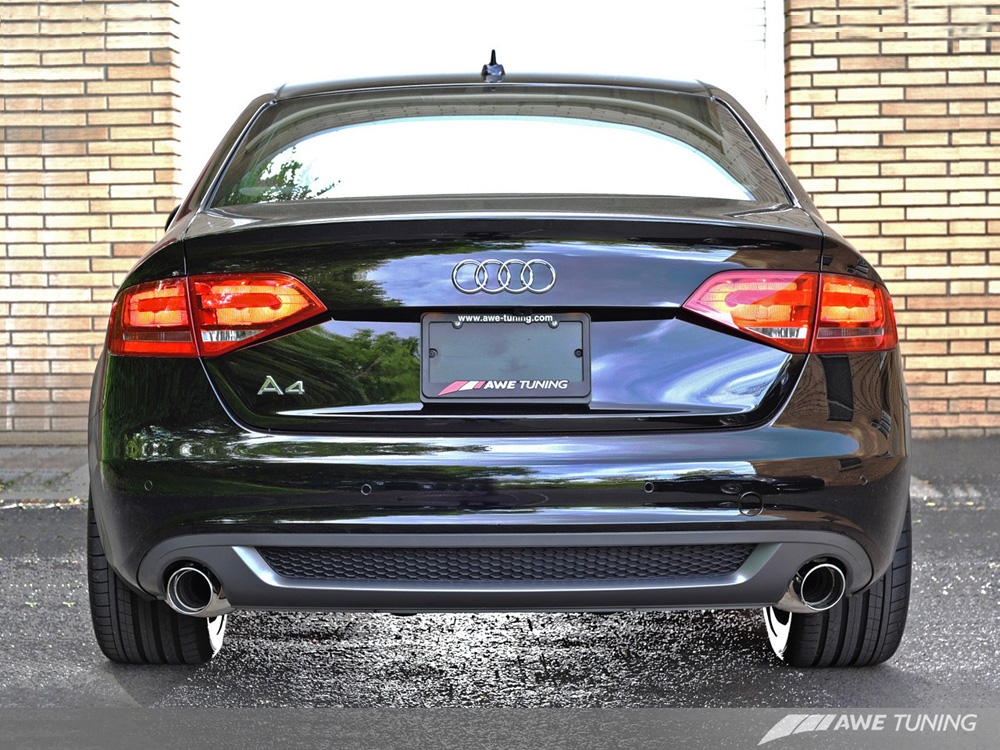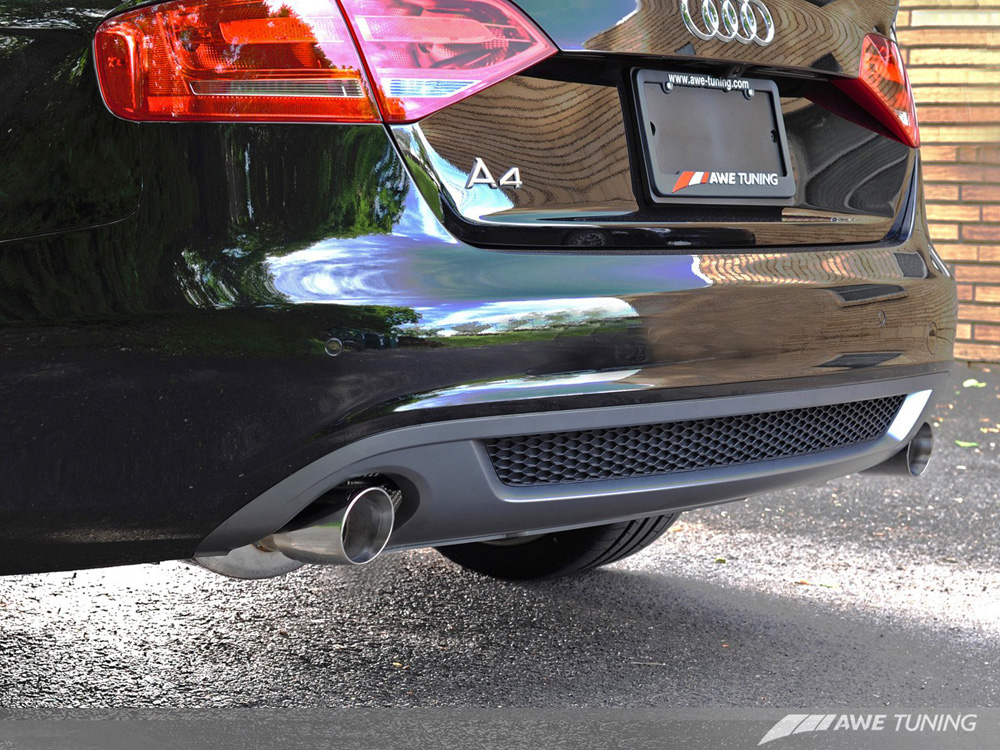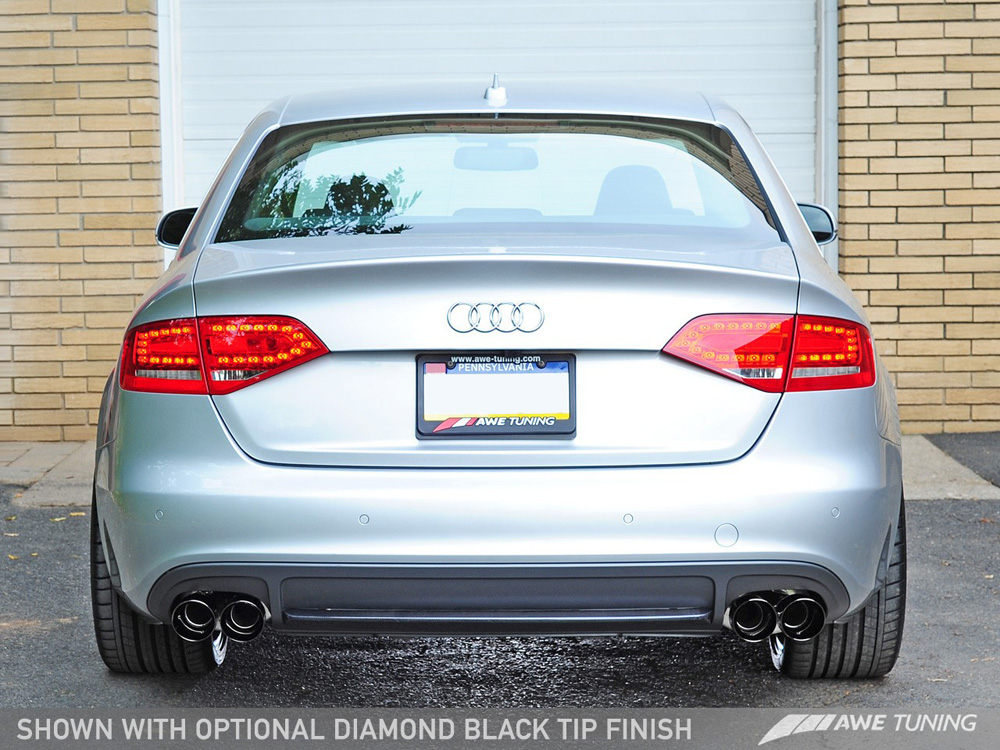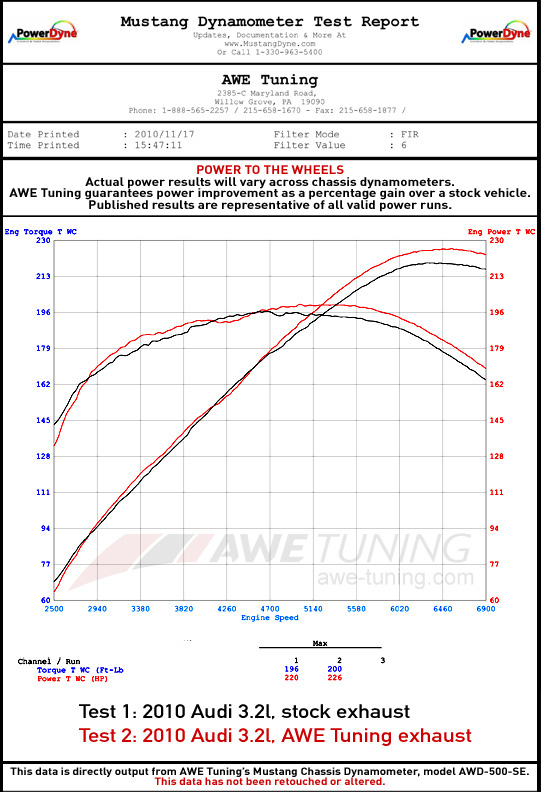 Search Terms: 3215-11032, 3015-32018, 3015-33020, 3015-42016, 3015-43018
| Make | Model | Submodel | Engine | Drivetrain |
| --- | --- | --- | --- | --- |
| Audi | B8 A4 | | 3.2L V6 | |
---
AWE Tuning has one vision: To Unlock Performance. From award-winning handcrafted performance exhausts to track-tested carbon fiber intakes and performance intercoolers. AWE state-of-the-art headquarters is located outside of Philadelphia, Pennsylvania. Since 1991, AWE's elite team of researchers, engineers, innovators and drivers have track-tested and introduced premium performance upgrades for some of the finest automobiles in the world, and specifically on Audi, Volkswagen, BMW, Porsche, McLaren, Mercedes.