AWE Exhaust Suite | 718 Boxster/Cayman (incl. S)
$1,65315

$1,653.15

Save $87.01
Availablity: Backordered, Contact us for accurate ETA
---
Low Prices. Price match guarantee
Guaranteed Fitment. Always the correct part
In-House Experts. We know our products
Superior Selection. Extensive catalog
---
AWE Tuning Product Description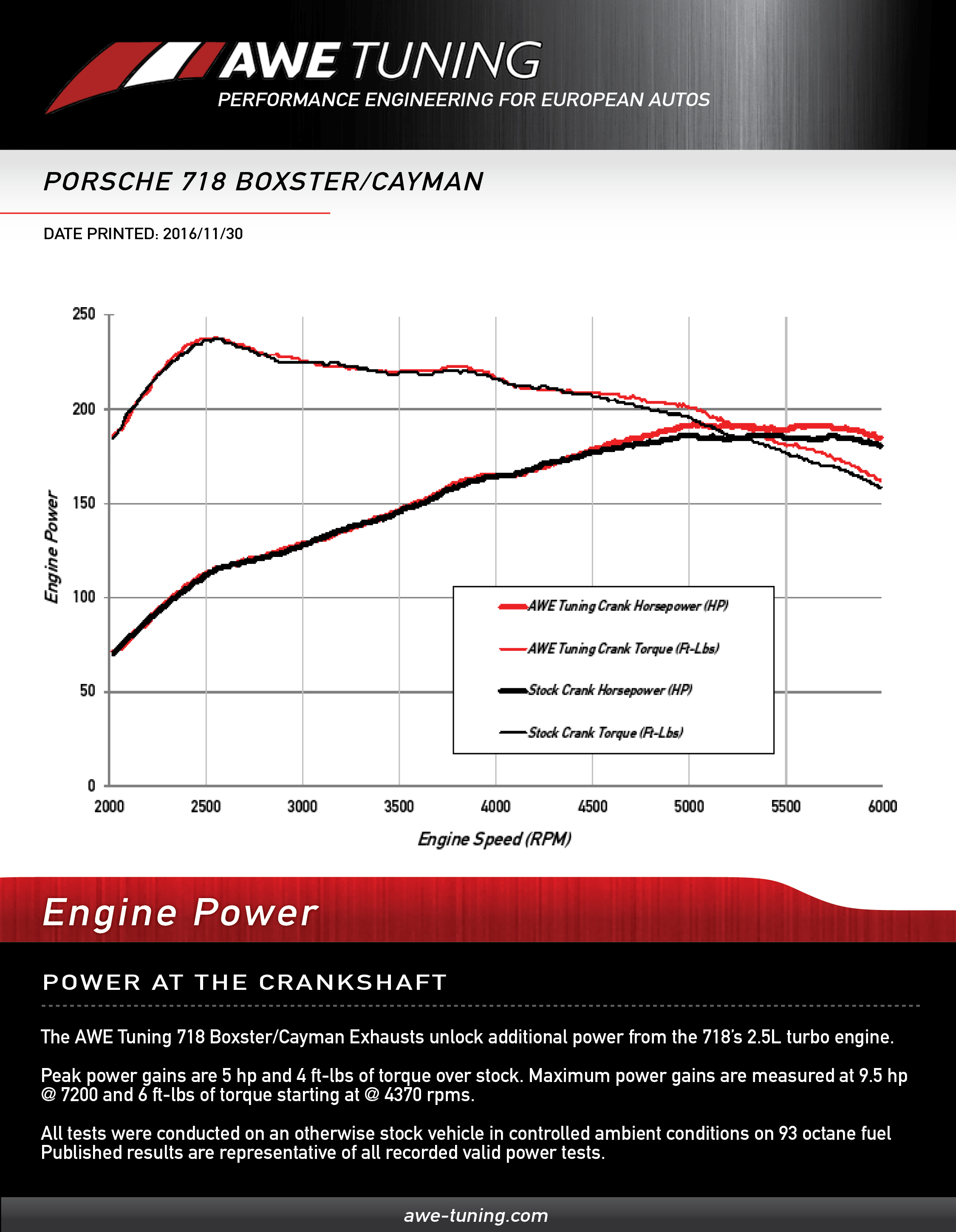 Multiple options covering every taste, accompanied by unmatched quality, fitment, performance, and a tailored AWE Tuning soundtrack. This is the finest 718 exhaust suite available.
Available as valved SwitchPath (retains factory PSE button operation), refined Touring Edition, or more unleashed Track Edition

 

Max gains of 9.5 hp @ 7200 rpm and 6 ft-lbs of torque starting @ 4370 rpm at the crank

 

Available as valved SwitchPath (retains factory PSE button operation), refined Touring Edition, or more unleashed Track Edition

 

102mm double-walled tips available in Chrome Silver or Diamond Black OR NOW AVAILABLE 96mm Carbon Fiber Tips

 

10.5 lb weight savings over stock with complete Track Edition, 6.5 lb savings with Touring Edition, and 2.5 lb savings with SwitchPath

 

Does not interfere with factory emissions equipment

 

Less is more: clean, straight-through design maximizes performance

 

Engineered, designed, and manufactured in-house at AWE Tuning

 

Handcrafted from U.S.-sourced CNC mandrel-bent 0.65" wall T304 stainless steel

 

Direct bolt-on system for factory-like simplicity and easy installation

 

No Check Engine Light - Guaranteed

 

Perfect Fitment - Guaranteed

 

Featuring the AWE Tuning Lifetime Exhaust Warranty

 

The Options
SwitchPath Exhaust (for cars equipped with PSE)
Have PSE and want to remain in control over your exhaust's tone at the press of the PSE button? Perfect. We created the SwitchPath Exhaust for the Boxster and Cayman to do just that, for drivers just like you.

Valve closed for sophistication, valve open for aggression. Sport mode? Yes please, extra burbles. Equipped with a tuned muffler on the driver's side and a valved straight section on the passenger's side, the SwitchPath Exhaust's soundtrack is pleasantly different dependent on its operating state. Drone-free mood control accompanied by addicting crackles and straight-through performance. 

Touring Edition Exhaust
Refined, yet aggressive tone. Daily drivability without drone. The perfect package. The Touring Edition Exhaust features a straight-through design with two original bullet-style mufflers on each side, lined with AWE Tuning's special blend of stainless and composite acoustical packing material.


Track Edition Exhaust
The Track Edition Exhaust is for those who like to rumble at all times. Featuring straight pipes on both the driver and passenger's sides, there's nothing standing in the way between the downpipe and the tips providing a completely unfiltered exhaust note.
This version is known to get rowdy in the mid range, and may be too much for many. For that reason, this particular version cannot be returned due to sound preference. Prepare yourself.


Conversion Kits
It's too loud! It's too quiet!
Don't worry. If you're looking to crank up a notch or bring it down, perfectly engineered upgrade paths are available. Turn a Touring Edition to a Track Edition, or vice versa.

Important fitment notes
The SwitchPath Exhaust is only applicable to cars equipped with the PSE option.

Tip Options
All tip options include the AWE Tuning logo, and double walling to ensure a mirror finish even under hard usage. All tips are individually adjustable, allowing depth into the bumper to be set according to personal taste.
· 102mm slash-cut diamond black tips
· 102mm slash-cut chrome silver tips
· 96mm stainless steel w/ Carbon Fiber sleeve tips


What's in the box?
Complete AWE Tuning exhaust, two 102mm tips in desired finish, all necessary clamps and hardware for installation, and installation instructions.
| Make | Model | Submodel | Engine | Drivetrain |
| --- | --- | --- | --- | --- |
| Porsche | 982 718 Cayman | All | All | All |
| Porsche | 982 Boxster | All | All | All |
---
AWE Tuning has one vision: To Unlock Performance. From award-winning handcrafted performance exhausts to track-tested carbon fiber intakes and performance intercoolers. AWE state-of-the-art headquarters is located outside of Philadelphia, Pennsylvania. Since 1991, AWE's elite team of researchers, engineers, innovators and drivers have track-tested and introduced premium performance upgrades for some of the finest automobiles in the world, and specifically on Audi, Volkswagen, BMW, Porsche, McLaren, Mercedes.