AWE Exhaust System | Mk3 Focus RS
$99500

$995.00

Save $52.37
Availablity: 5 In Stock
---
Low Prices. Price match guarantee
Guaranteed Fitment. Always the correct part
In-House Experts. We know our products
Superior Selection. Extensive catalog
---
AWE Tuning Product Description

The AWE Mk3 Focus RS Exhaust Suite:

Touring Edition Cat-back Exhaust
The Mk3 Focus RS Touring Edition Exhaust sits at the intersection of sophisticated and aggressive. A direct bolt-on, straight-through, drone-free masterpiece. The Touring Edition Exhaust boasts AWE's proprietary drone-canceling solution, 180 Technology, producing a drone-free, aggressive tone throughout the entire range. Civil while cruising on the highway, aggressive when you need it. Loud, sharp pops and crackles accessible at any time.

The Touring Edition is available as resonated or non-resonated. While we recommend resonated to achieve the perfect drone-free configuration, the option for non-resonated is available for those who crave extra volume in the mid range.
Track Edition Cat-back Exhaust
If raw and rowdy are your speed, the Track Edition is your dose of steel. The loudest of the lot, the Track Edition Exhaust retains all the engineering and precision of the Touring Edition, minus AWE's proprietary drone-canceling solution, 180 Technology. A full 3" diameter configuration rounds out the feature set.

This version is known to get rowdy in the mid range, and may be too much for many. For that reason, this particular version cannot be returned due to sound preference. Prepare yourself.

SwitchPath Cat-back Exhaust (Includes Remote)
From sophisticated to rowdy, at the push of a button.The SwitchPath Exhaust is a full 3" diameter system featuring a straight-through muffler consisting of AWE's special blend of stainless steel packing and acoustical material. With a valved outlet on the passenger's side, the SwitchPath Exhaust can remain quiet and comfortable while cruising, or rowdy when you want to crank it to 11. The SwitchPath Exhaust can retain the factory ECU-controlled operation or it can be bypassed with the SwitchPath Remote, enabling you to toggle between sophisticated and aggressive at any time from within the cabin.

Sound Perfection: AWE Tuning 180 Technology
Perfect tone, compliments of AWE Tuning 180 Technology.As exhaust gases exit the RS' 2.3T engine and flow into an AWE Tuning 180 Technology equipped resonator, they pass through strategically located ports, and into reflection chambers. Sound waves, carried by these exhaust gasses, bounce off the walls of the reflection chambers. By controlling the size and location of the ports and the chambers, we also control when the sound waves exit the chambers. The specific timing of when the reflected sound waves rejoin the main exhaust flow creates a one-hundred-and-eighty-degree out-of-phase sound wave that cancels out problematic frequencies. More on AWE Tuning 180 Technology in the tab above.

Features:
All of the hot hatch tone with zero drone

Available as valved SwitchPath, sophisticated Touring Edition, or unleashed Track Edition

Proudly designed, engineered, and manufactured in-house, in the U.S.A

Max gains of 22 hp and 19 ft-lbs of torque to the crank (SwitchPath, Touring & Track Editions)

SwitchPath can be controlled via the SwitchPath Remote, or retain factory valve operation

Touring Edition features AWE's proprietary drone-canceling solution, 180 Technology

Touring Edition available as resonated and non-resonated

Handcrafted out of 3" U.S.-sourced .068" wall T304L stainless steel

4" double-walled tips available in chrome silver or diamond black

Less is more: clean, non-baffled, straight-through design maximizes performance

Direct bolt-on system for factory-like simplicity

No Check Engine Light - Guaranteed

Perfect Fitment - Guaranteed

Featuring the AWE Lifetime Exhaust Warranty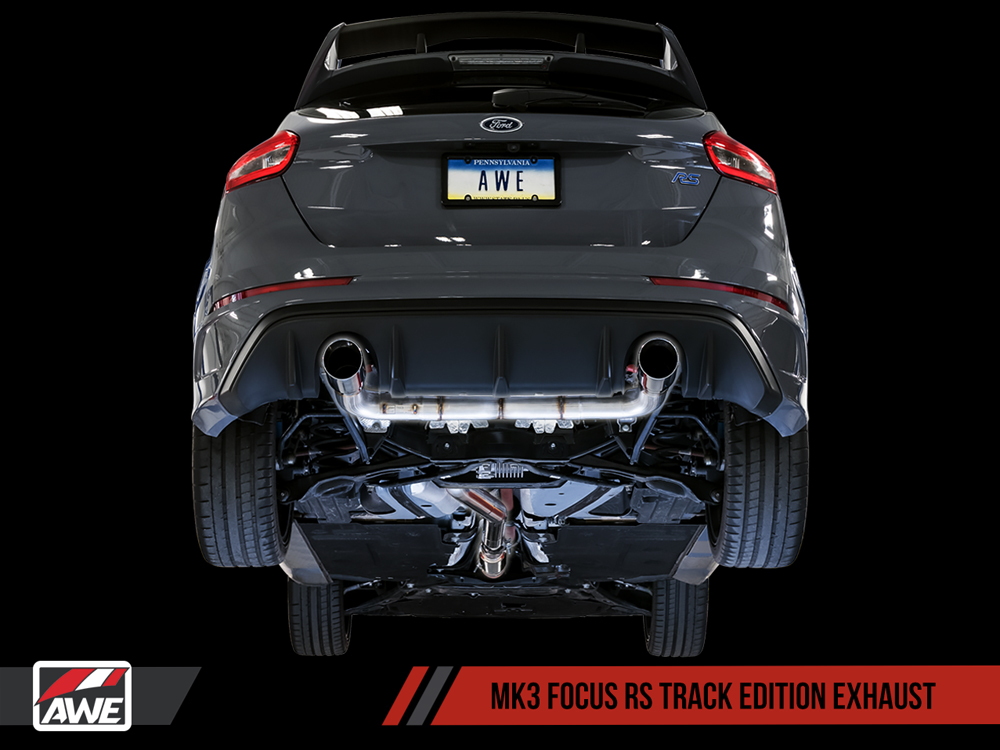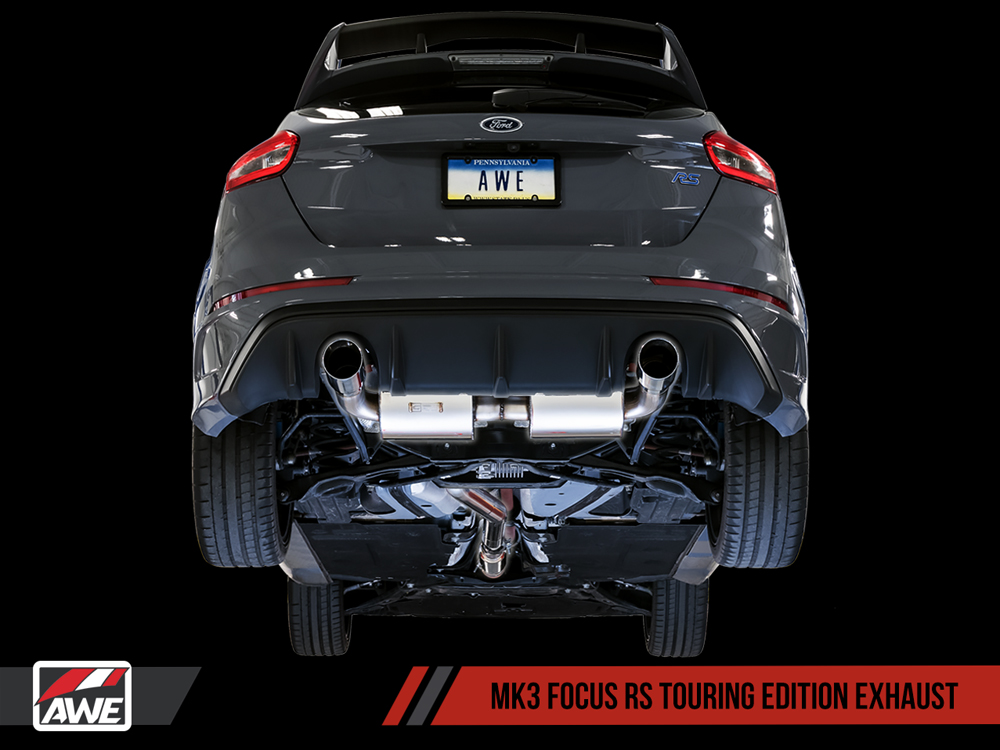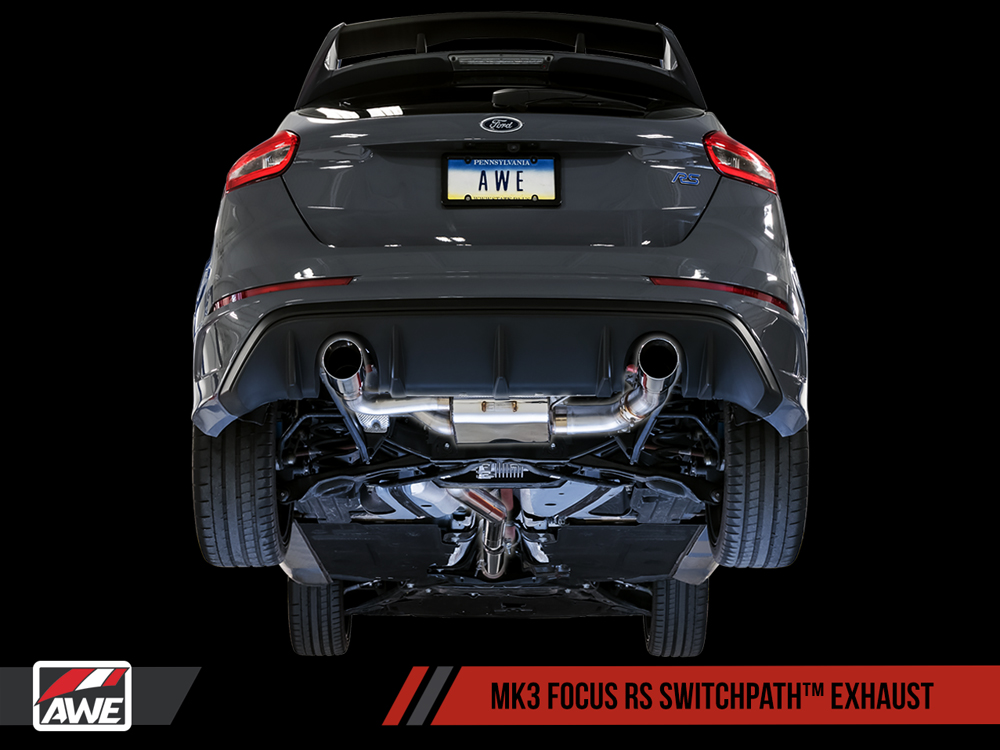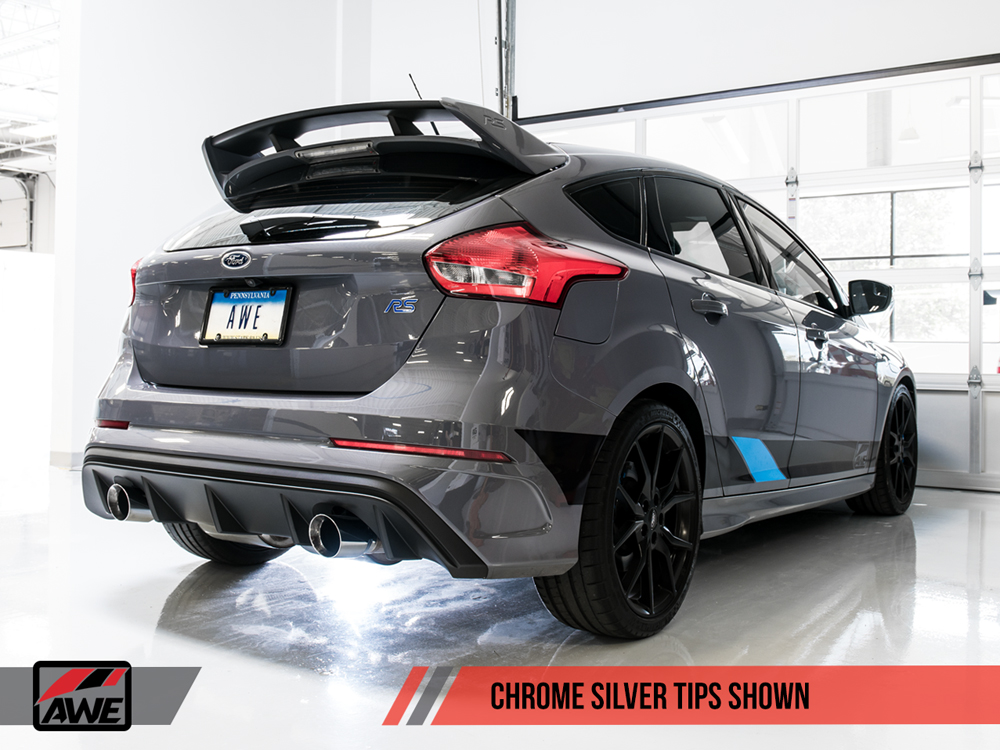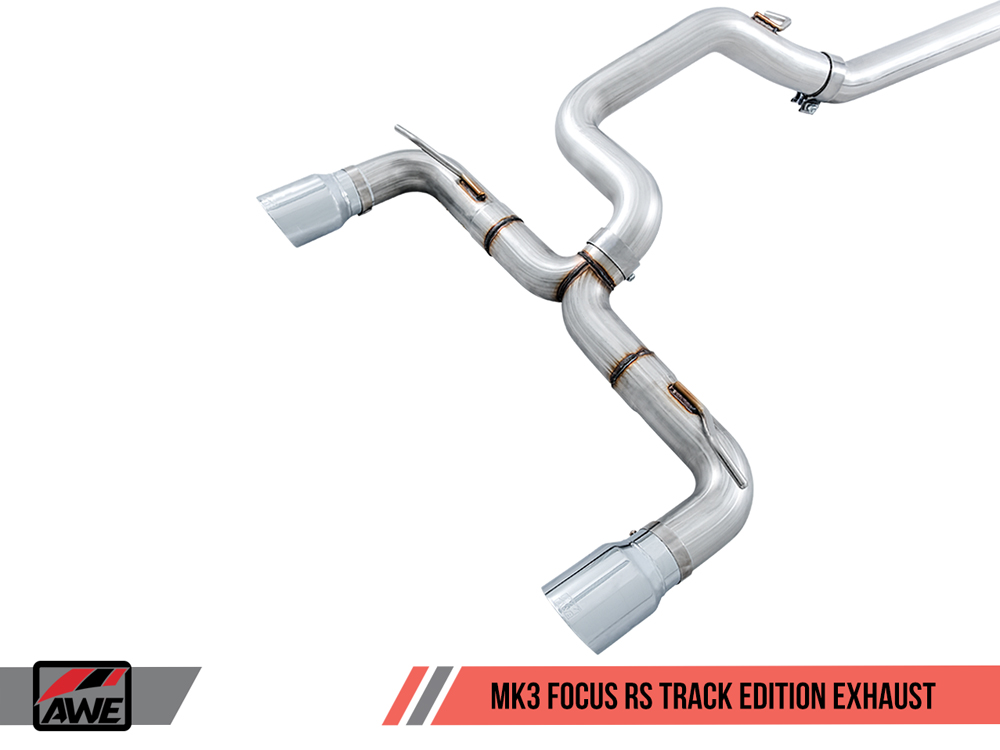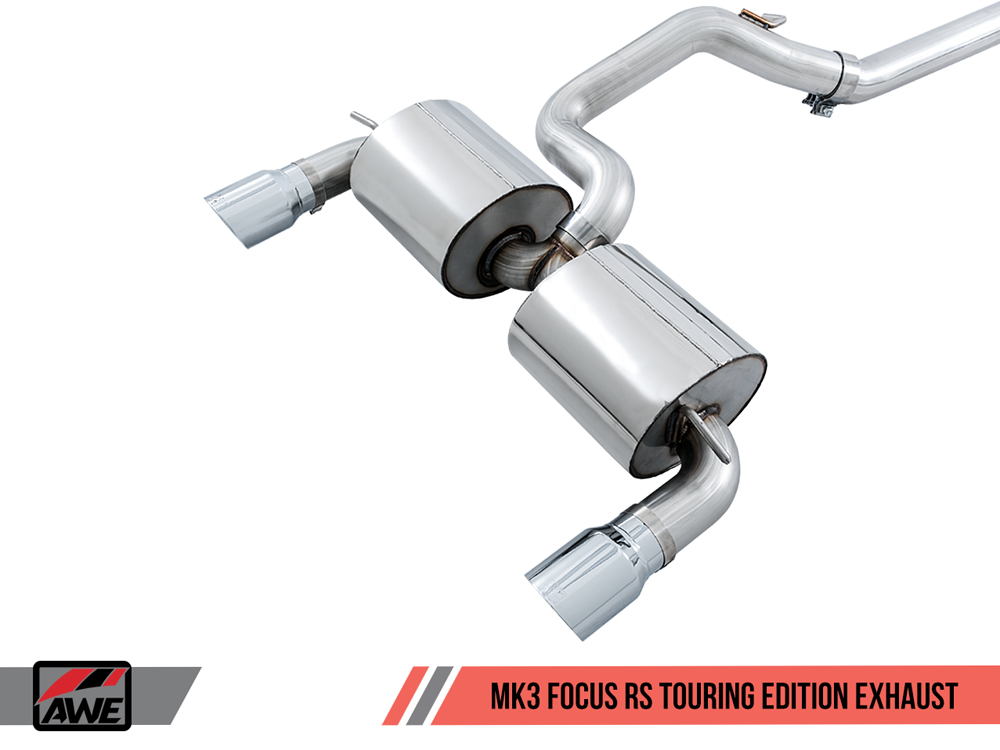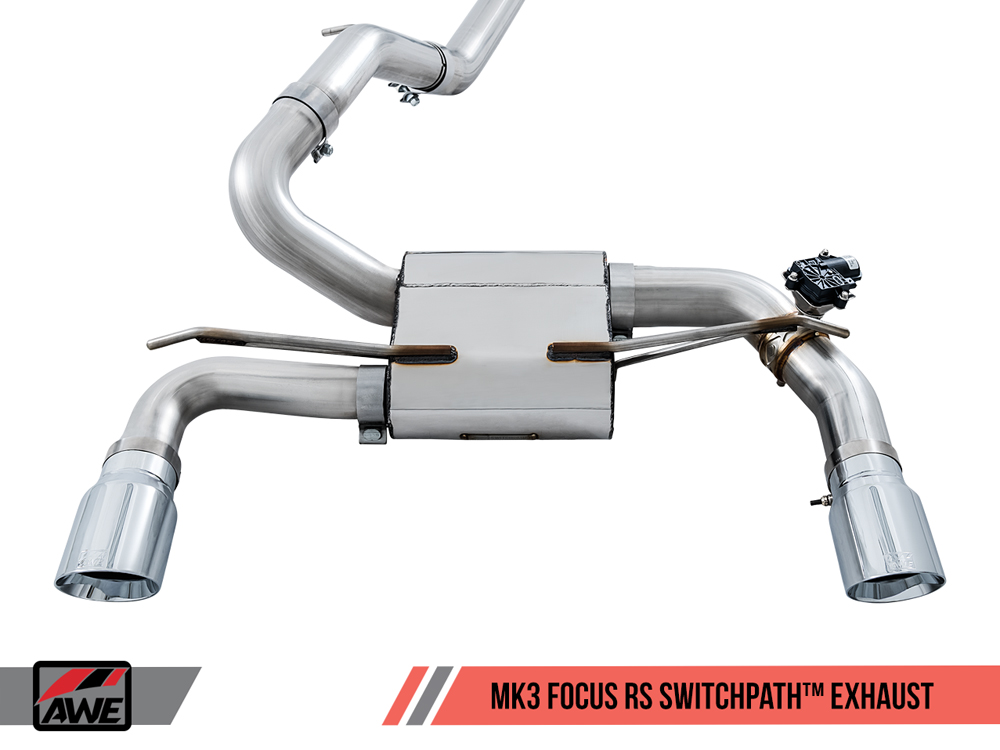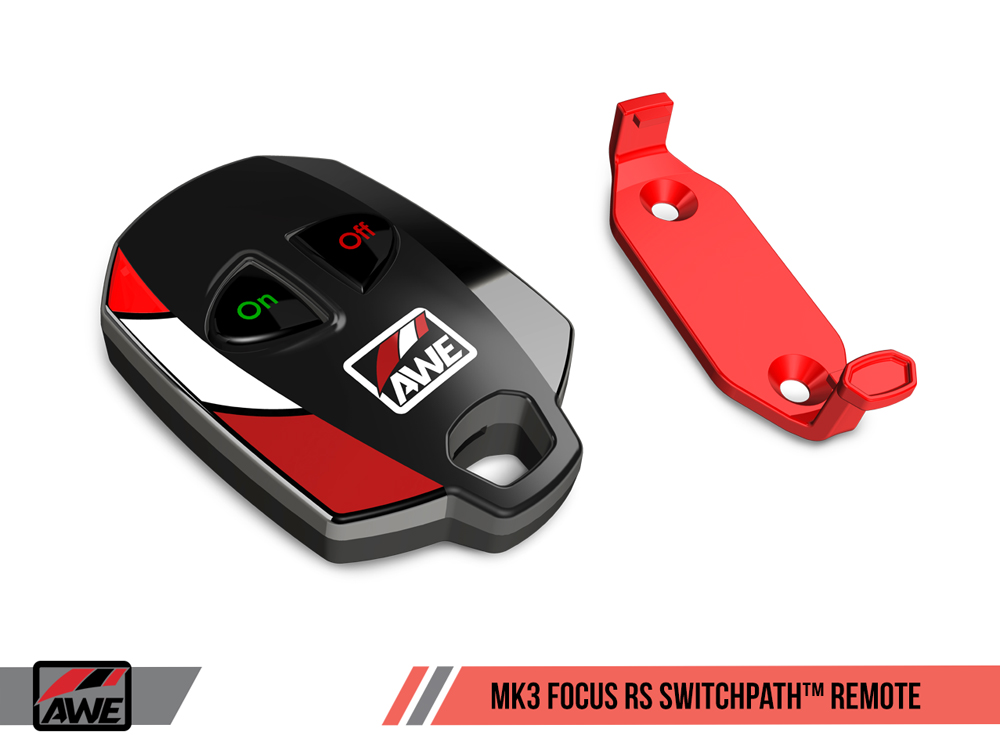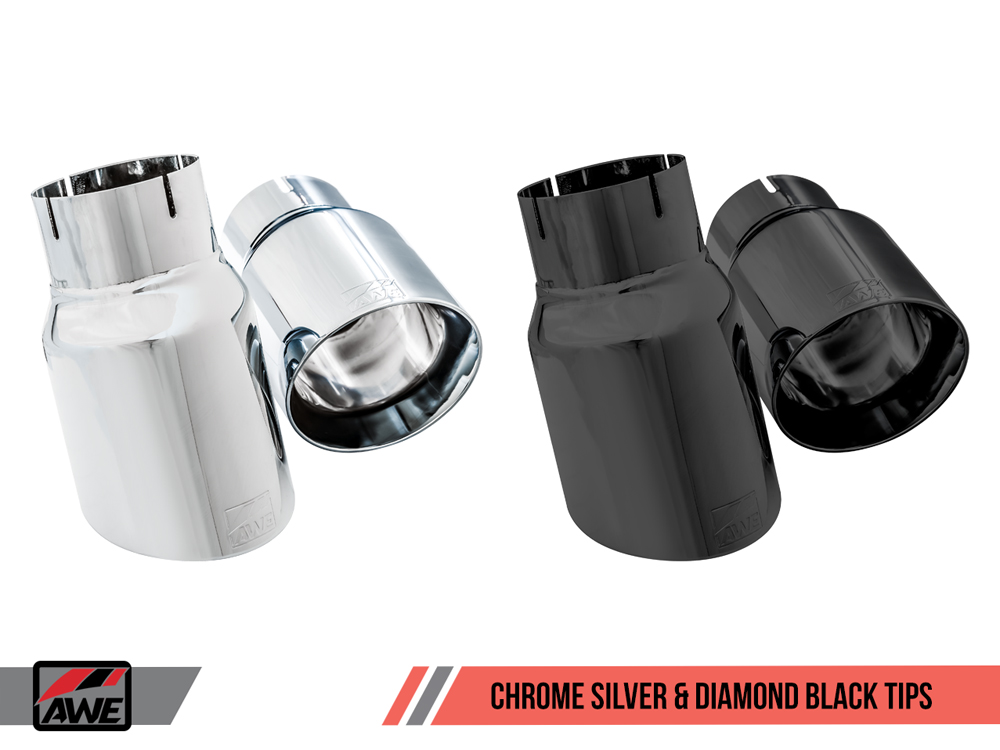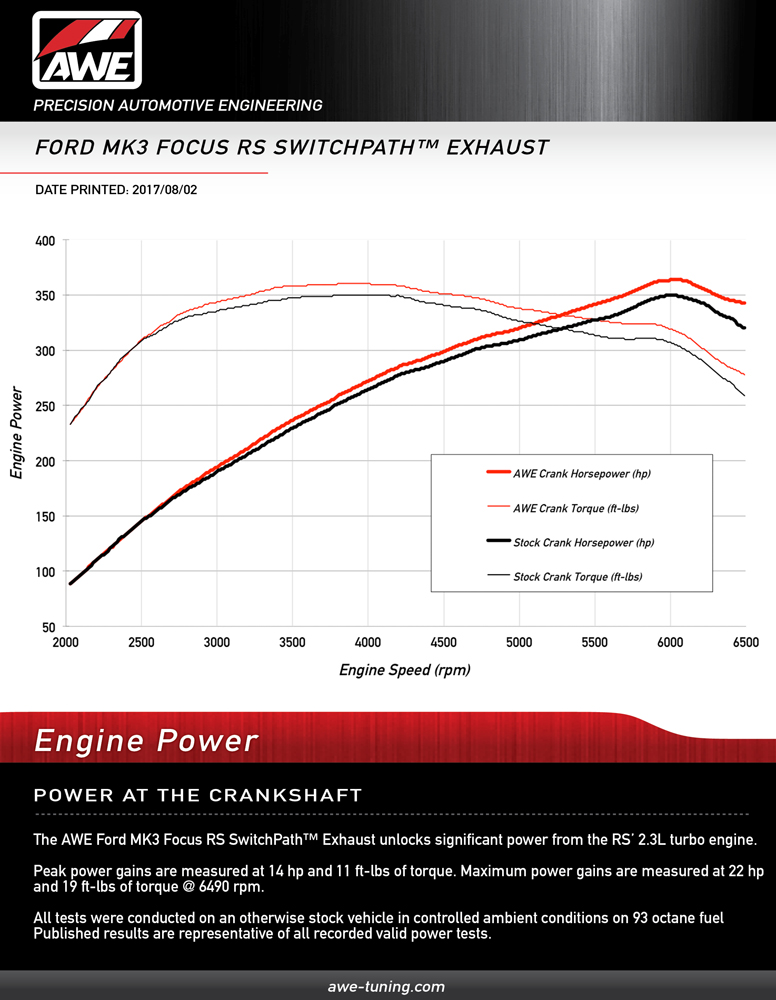 AWE Part Numbers: 1325-11012, 3020-32030, 3020-33032, 3015-32088, 3015-33088, 3020-32036, 3020-33042, 3025-32024, 3025-33024
| Make | Model | Submodel | Engine | Drivetrain |
| --- | --- | --- | --- | --- |
---
AWE Tuning has one vision: To Unlock Performance. From award-winning handcrafted performance exhausts to track-tested carbon fiber intakes and performance intercoolers. AWE state-of-the-art headquarters is located outside of Philadelphia, Pennsylvania. Since 1991, AWE's elite team of researchers, engineers, innovators and drivers have track-tested and introduced premium performance upgrades for some of the finest automobiles in the world, and specifically on Audi, Volkswagen, BMW, Porsche, McLaren, Mercedes.