AWE Exhaust System | Mk7.5 GTi
$84500

$845.00

Save $44.47
Availablity: 4 In Stock
---
Low Prices. Price match guarantee
Guaranteed Fitment. Always the correct part
In-House Experts. We know our products
Superior Selection. Extensive catalog
---
AWE Tuning Product Description
Four and a Half Generations Strong.
Producing an exhaust system for Volkswagens 7th generation GTI was no easy feat. Luckily AWE Tuning already have four generations of GTI under their belts.
Merging decades of experience with hundreds of hours of prototyping, engineering, dyno testing and daily usage evaluation has output an exhaust system that is the ultimate compliment to GTI lineage. With options to go around, this is AWE Tuning's finest GTI exhaust to date.
Max gains of 21 hp and 24 ft-lbs of torque at the crank without software (full turboback)
Handcrafted from CNC mandrel-bent 3" and 2.25" U.S.-sourced .065" wall T304L stainless steel
Performance Downpipe features a 200 CPSI EURO 6-compliant HJS catalyst
Direct bolt-on for factory-like simplicity
Proudly engineered, designed and manufactured in-house at AWE
102mm double-walled tips available in chrome silver or diamond black
Less is more: clean, straight-through design maximizes performance
Easily convert from Track Edition to Touring Edition, or vice versa
Dyno-developed and street-proven on the in-house AWE MK7 GTI
AWE No CEL Guarantee
Perfect fitment, guaranteed
AWE Lifetime Warranty (one year on catalyst)
AWE MQB Performance Downpipes are confirmed to fit on cars with the Performance Package

The AWE Tuning Mk7.5 GTI Exhaust Suite:
Mk7.5 Touring Edition Exhaust
The intersection of performance and sophistication, the Touring Edition produces a civil tone while idling and cruising around, but give it the boot and unleash a "war-cry wail."

Equipped with a tailored resonated mid pipe and mid muffler, the Touring Edition is fit to accompany both stock and aftermarket downpipes while remaining civil within the cabin.
Mk7.5 Track Edition Exhaust
For those who want to turn it up to 11, go Track.

The Track Edition retaining the same precision engineering as its Touring Edition counterpart, minus the resonated mid pipe. Instead, the Track Edition comes complete with a non-resonated mid pipe, leaving the mid muffler as the only filter.

This version is known to get rowdy, and may be too much for many. For that reason, this particular version cannot be returned due to sound preference. Prepare yourself.
Performance Downpipe
A potent max gain of 21 hp and 24 ft-lbs of torque at the crank without software when mated to the Touring and Track Edition Exhaust systems. The Performance Downpipe is designed to mate to an AWE exhaust or any other exhaust that bolts to factory locations.
Max gains of 21hp and 24ft-lbs of torque at the crank without software.

3 inch, one-piece design. No pre-cat slip joint to leak.

Engineered flex pipe ensures that the downpipe moves with 2.0T engine unlike other systems on the market.

No O2 sensor spacers needed!

HJS 200 cell HD high-flow catalyst. (Only high-durability catalyst on the market for the GTI)

4.5lbs lighter than the factory downpipe.

T304 stainless steel construction.

Dyno-developed, street proven on the AWE Tuning in-house Mk7.

Engineered, designed and manufactured in house at AWE Tuning.

No CEL. Guaranteed.

Fitment. Guaranteed.

Lifetime Warranty on downpipe, one year warranty on catalyst.
Not sure which combination of AWE Tuning Mk7.5 GTI Products will meet your desired sound levels? This should help:
From civil to disobedient:
Touring Edition with factory downpipe.

Touring Edition with Performance Downpipe

.

Track Edition with factory downpipe.

Track Edition with Performance Downpipe.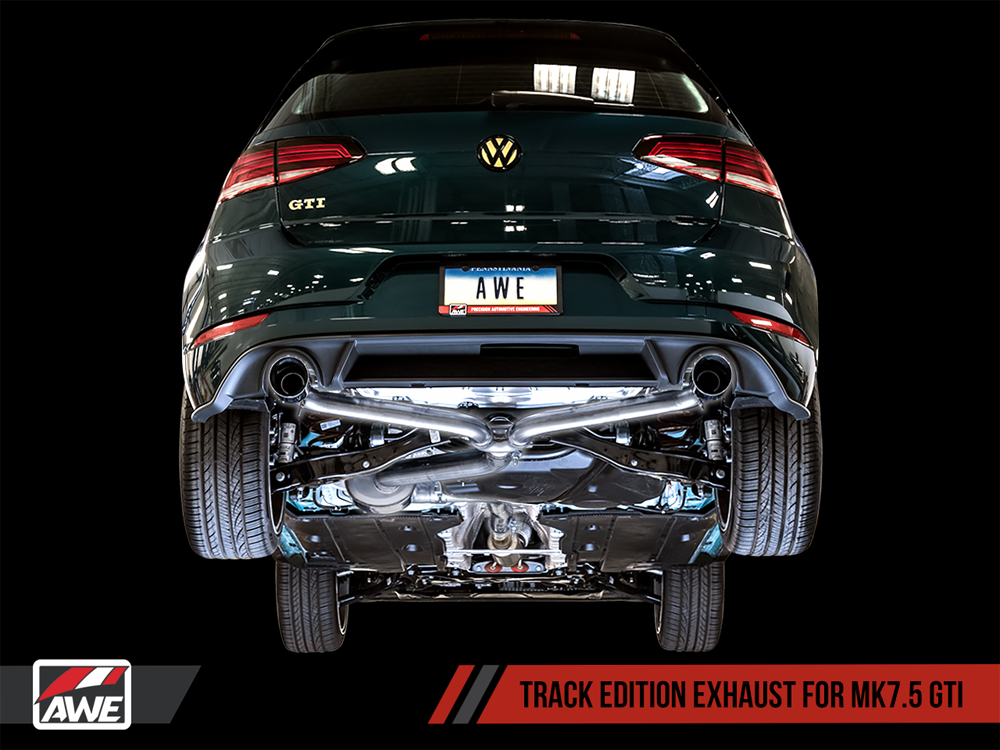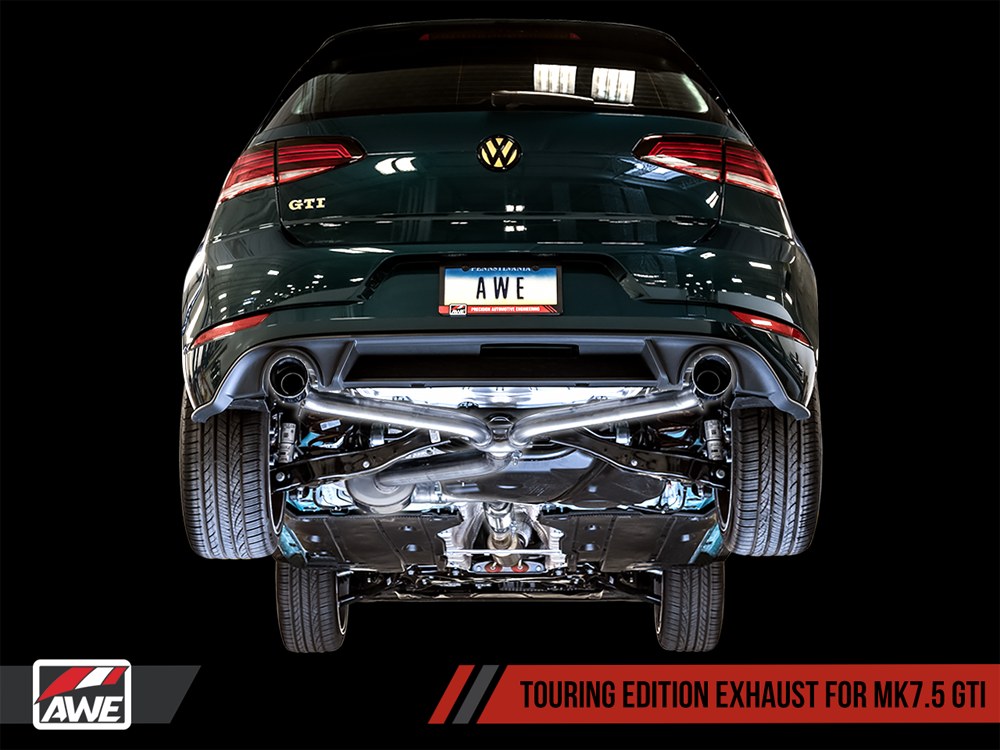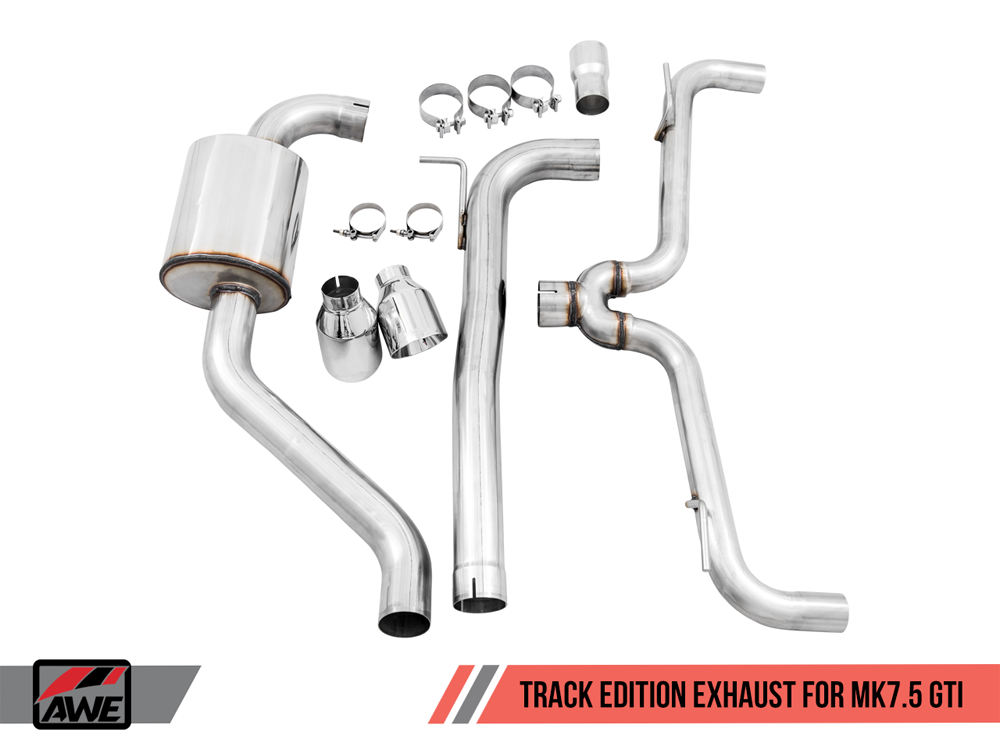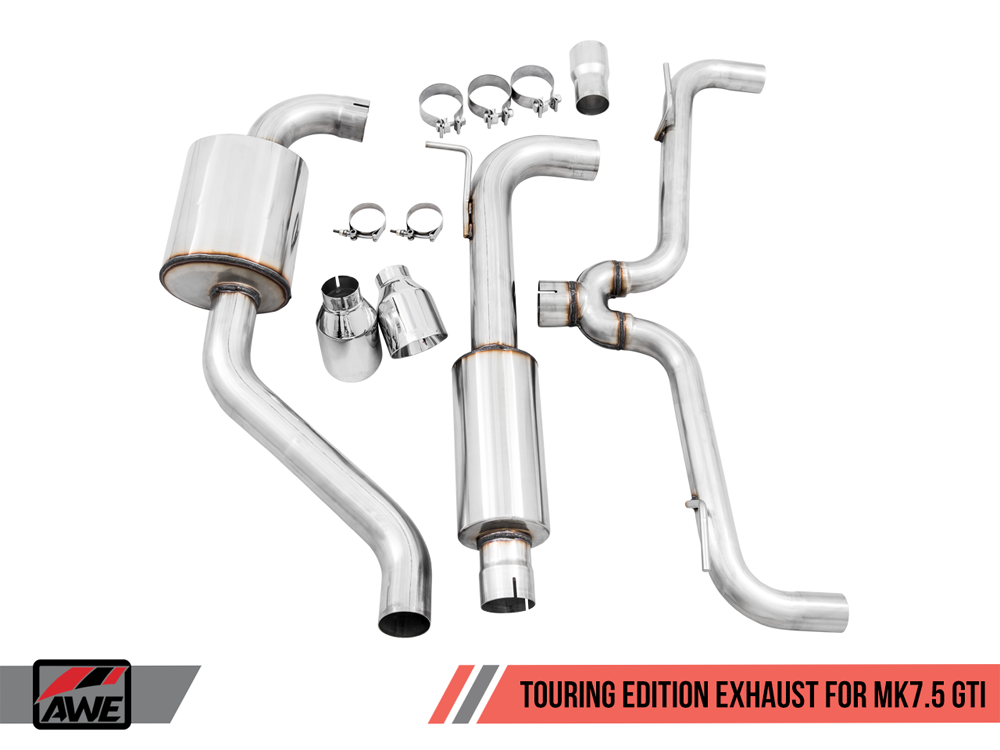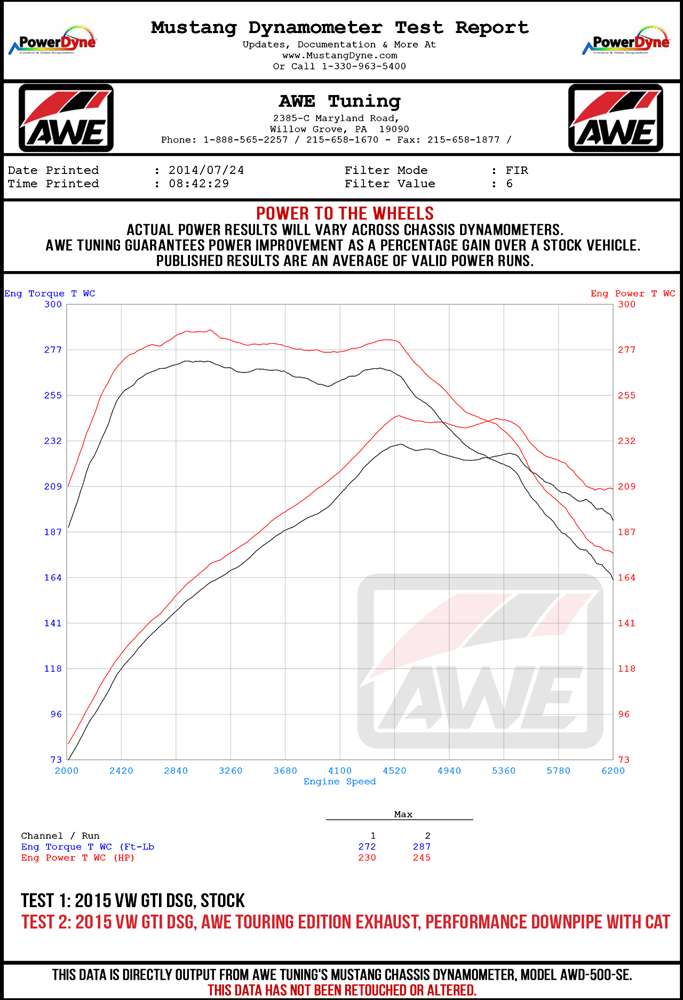 | Make | Model | Submodel | Engine | Drivetrain |
| --- | --- | --- | --- | --- |
| Volkswagen | Mk7.5 | GTI | 2.0T | |
---
AWE Tuning has one vision: To Unlock Performance. From award-winning handcrafted performance exhausts to track-tested carbon fiber intakes and performance intercoolers. AWE state-of-the-art headquarters is located outside of Philadelphia, Pennsylvania. Since 1991, AWE's elite team of researchers, engineers, innovators and drivers have track-tested and introduced premium performance upgrades for some of the finest automobiles in the world, and specifically on Audi, Volkswagen, BMW, Porsche, McLaren, Mercedes.