AWE Performance Exhaust System - 991 | 997.2 | GT3 | GT3 RS
$1,59500

$1,595.00
0% Financing with Affirm
|
---
Low Prices. Price match guarantee
Guaranteed Fitment. Always the correct part
In-House Experts. We know our products
Superior Selection. Extensive catalog
---
AWE Tuning Product Description
The AWE Tuning Porsche 991/997.2 GT3/RS & 991 911R Performance Exhaust Suite

The exhaust suite worthy of the GT3 and GT3 RS. Options, power, weight reduction, and signature tone.
Exhaust System Highlights:
Max gains of 19 hp and 20 ft-lbs of torque at the crank (SwitchPath Exhaust)
Available as full SwitchPath Exhaust or Center Muffler Delete
Center Muffler Delete features a true balance pipe enabling a sophisticated tone
SwitchPath provides completely uncorked aggression
Center Muffler Delete provides weight savings of 11lbs
Full SwitchPath Exhaust, with tips, weighs only 17lbs (stock weight: 65lbs)
Direct bolt-on for factory-like simplicity
SwitchPath Exhaust retains factory valve operation
Less is more: clean, straight-through design maximizing flow and performance
Engineered, designed, and manufactured in-house at AWE Tuning
Handcrafted from U.S.-sourced CNC mandrel-bent 0.65" wall T304 stainless steel
Perfect fitment - guaranteed
AWE Tuning No Check Engine Light Guarantee
Features the AWE Tuning Lifetime Warranty
Also fits 991 911 R and 997.2 GT3 / GT3 RS models

The Options:

Switch Path Exhaust

Comprised of a center muffler delete featuring a balance pipe, and valved side muffler deletes, the SwitchPath Exhaust retains the factory valve operation while providing a significant increase in power, weight reduction, and an eye-widening soundtrack.The SwitchPath Exhaust will respond to your driving style: once the ECU registers your RPM and opens the valves, the tone produced from the SwitchPath evolves from sophisticated street car to roaring Cup Car. Thanks to the 0.65" wall T304 stainless steel, the SwitchPath Exhaust provides a deep and refined exotic tone, even with the valves closed.
Center Muffler Delete

The Center Muffler Delete is an application for those who want to increase tone, free up some power while dropping weight, but prefer to keep their factory side mufflers -- it's the SwitchPath Exhaust minus the valved side muffler deletes.If you choose the Center Muffler Delete and come to find you want to add the Side Muffler Deletes to make it a full SwitchPath Exhaust, check out our SwitchPath Conversion Kit.
Lighter, Faster

The factory exhaust, as a whole, weighs 65lbs (side mufflers: 22lbs each, center muffler: 18lbs, and tips: 3lbs). The AWE Center Muffler Delete, with tips, weighs only 9lbs. The SwitchPath Exhaust, with tips, weighs only 17lbs resulting in a weight savings of 48lbs.


Tip Options:

All tip options include the AWE Tuning logo, and double walling to ensure a mirror finish even under hard usage. All tips are individually adjustable, allowing depth into the bumper to be set according to personal taste.
102mm slash-cut diamond black tips
102mm slash-cut chrome silver tips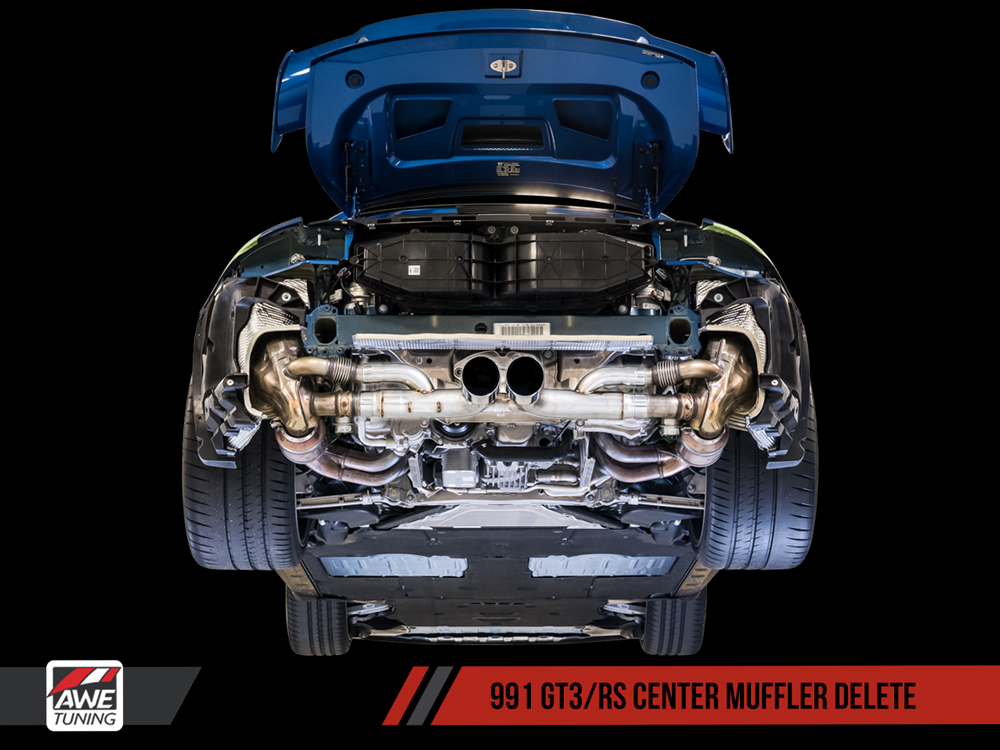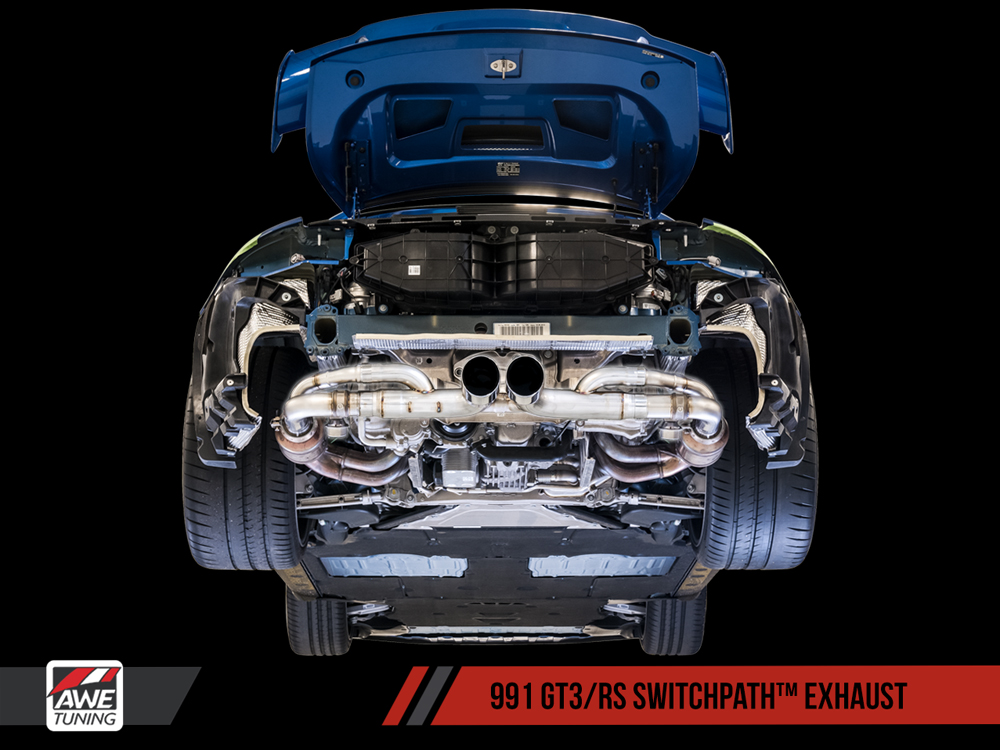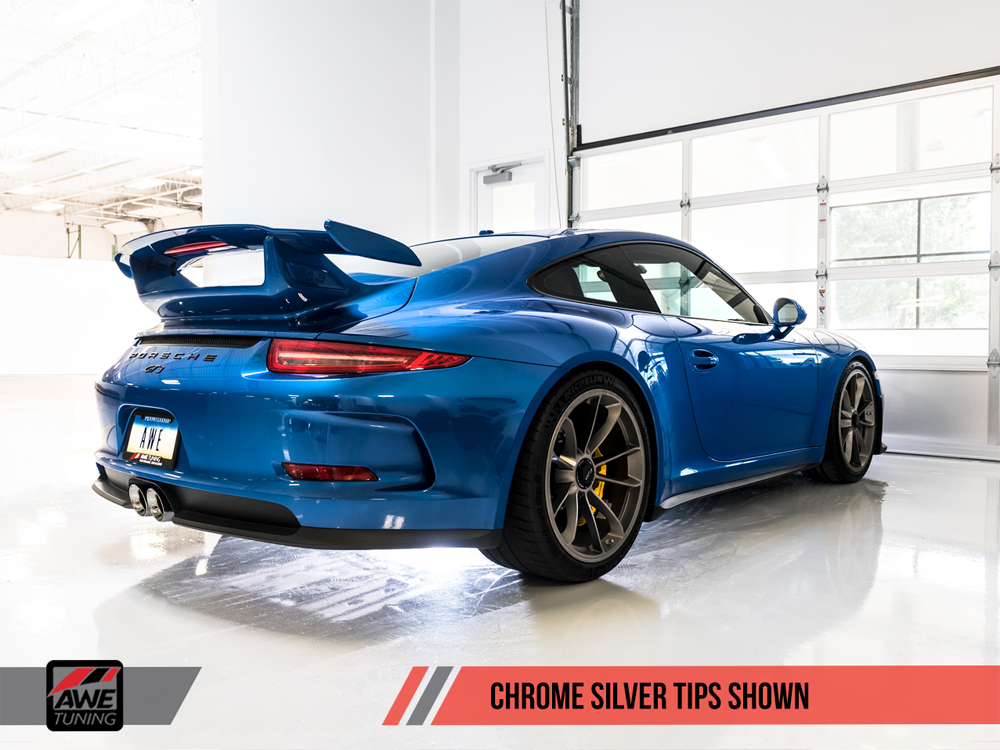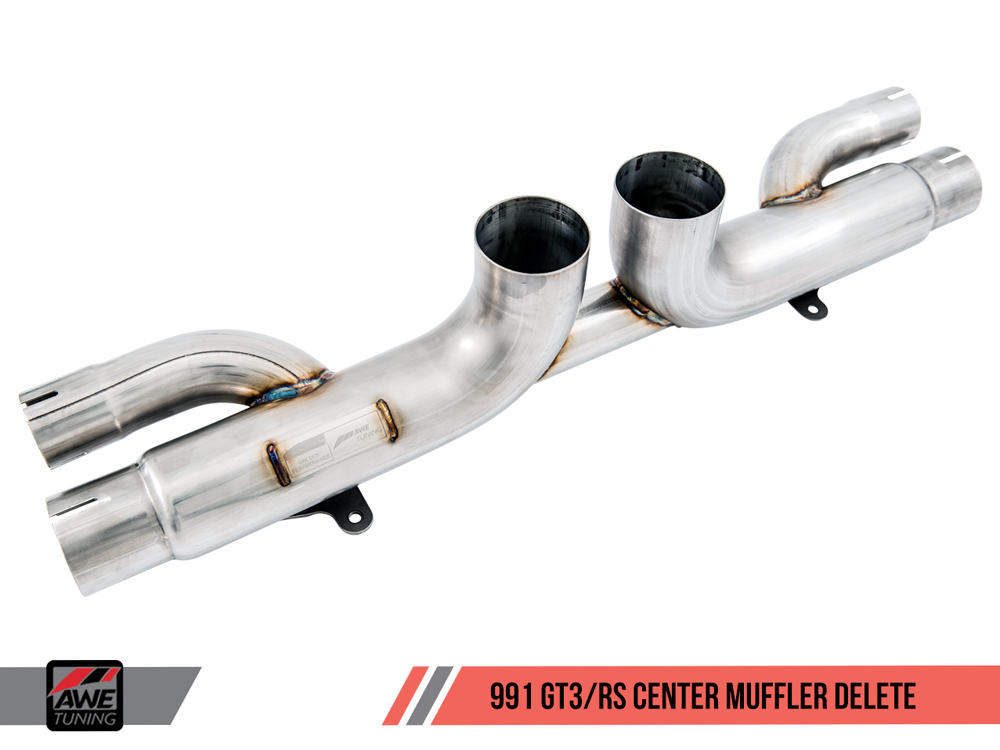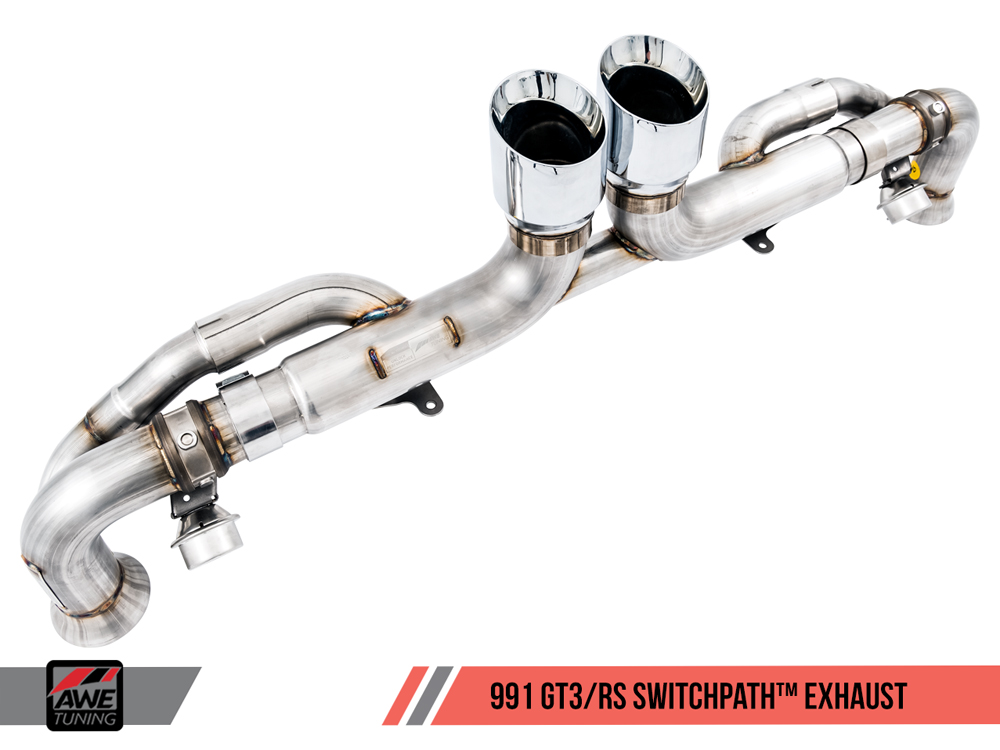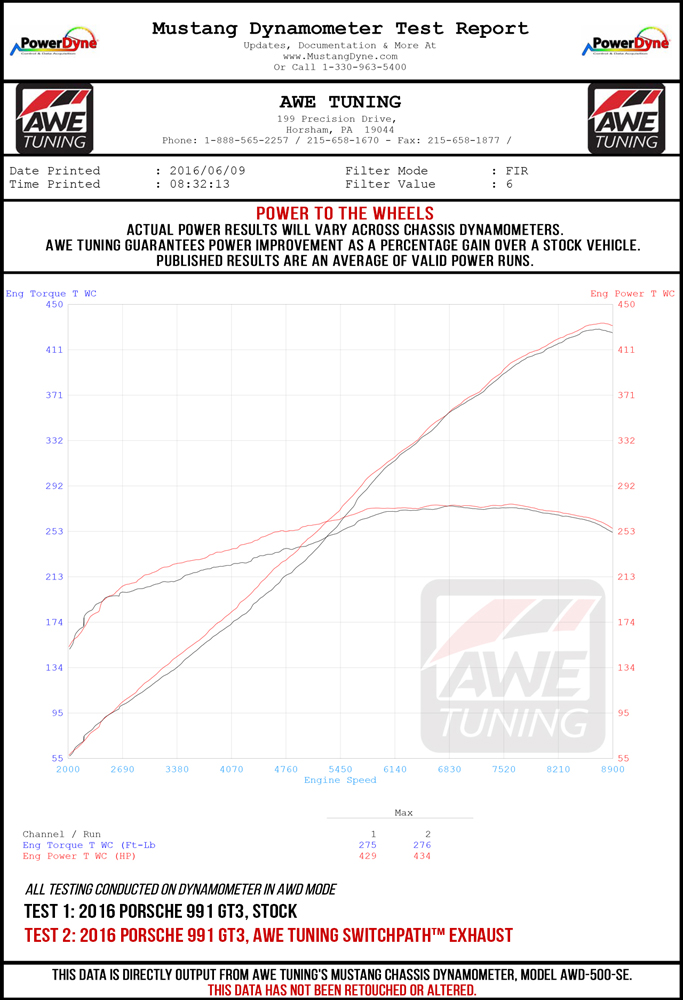 | Make | Model | Submodel | Engine | Drivetrain |
| --- | --- | --- | --- | --- |
| Porsche | 991.1 911 | GT3 | 3.8L | |
| Porsche | 991.1 911 | GT3 RS | 4.0L | |
| Porsche | 997.2 911 | GT2 | 3.6L | |
| Porsche | 997.2 911 | GT2 RS | 3.6L | |
| Porsche | 997.2 911 | GT3 | 3.8L | |
| Porsche | 997.2 911 | GT3 RS | 3.8L | |
---
We Also Recommend
---