AWE Performance Exhaust System - 997 GT3/RS
$7,43979

$7,439.79
0% Financing with Affirm
|
---
Low Prices. Price match guarantee
Guaranteed Fitment. Always the correct part
In-House Experts. We know our products
Superior Selection. Extensive catalog
---
AWE Tuning Product Description
Born in our engineering lab, and perfected on the track, our 997 GT3/GT3 RS full exhaust system is for serious drivers only.
Comprised of 321 stainless steel equalized flow headers, 200 cell German catalytic converters, high temperature muffler packing, and optional Diamond Black tips, no other exhaust attempt for the GT3 achieves the level of sophistication found in the AWE Tuning solution.
If a racecar-like sound is your only goal, you've come to the wrong place. If real, repeatable power gains along with a racecar sound is what you seek, then we can deliver. The GT3 exhaust is so thoroughly developed from the factory, that improving upon it is beyond the means of most aftermarket exhaust tuners out there.
We performed literally hundreds of hours of dyno testing, lab work, and prototyping to achieve any meaningful power gains over the factory design. We tested so many different configurations during our development of this system, that we are able to compile dyno results to show what individual part swapping with this exhaust will get you: a power loss vs stock.
Our design began with cues taken from the 997 RSR configuration, as conventional concepts failed to produce power gains on this high strung engine. The key to our success is in the way we took a complete approach to the system. Where piece-meal solutions can work on less evolved engines, mixing and matching aftermarket parts with factory parts just did not work on this car.
Careful monitoring of exhaust temperatures, as well as post track use evaluations, exposed the need for 321 grade stainless steel for our header construction. Using only certified 321 stainless, our header primary lengths were chosen to balance exhaust pulses, taking into account each bend radius restriction and overall length, and then mandrel bent in house. The relatively long tube length chosen is responsible for the massive midrange power gains recorded. However, this long header length also precluded using them with the factory mufflers. Thus, we needed to design our own catalytic converter and muffler sections to take advantage of our long tube headers.
System highlights:
Thick 16 gauge 321 Stainless Steel headers
200 cell German HJS catalytic converters
Thick 14 and 16 gauge 304 Stainless Steel mufflers and tubing
16 lbs weight savings over stock
TIG Purge Welded for highest weld strength
No loss of ground clearance
Optional Diamond Black tips
Optional tailpipe turndowns for track noise limits
We prototyped and dyno tested rear muffler delete pipes in multiple diameters, side muffler delete pipes in multiple diameters, and straight pipes right off the factory headers. All of these configurations lost power on this engine due to the way the factory exhaust system relies on the side and rear mufflers for resonance tuning. The factory exhaust has been proven to work only as a complete system on the GT3, and our testing has shown to us that single part substitutions have significant negative impact on power results.
Besides the advanced flow design of our system, we have also achieved a terrific, muscular sound to go with the added power. Although the overall volume is on the louder side compared to our other exhaust offerings, it is still suitable for street driving. Optional slip on tailpipe turn downs are available for use at tracks with strict noise regulations.
Total weight savings is 16 lbs over stock, and no modifications are required for fitting on the car. The system can be ordered with optional Diamond Black coated tips to evoke a stock look, along with increased tip diameter and color depth. The system as delivered is in a mill finish, but a mirror polish on the mufflers can be ordered additionally above.
Recorded maximum power gains on our Mustang chassis dyno were 11 crank hp at 7600rpm and 20 crank torque at 4400rpm.As with all AWE Tuningexhaust products, each TIG weld is hand finished internally, only butt-welded junctions are used, and flange openings are size matched to their ports, all to produce the smoothest flow possible. It is this intensive attention to detail that sets AWE Tuningexhaust products heads and shoulders above the rest.
Our exhausts are also like bespoke suits: each is hand made utilizing only the finest casing and packing materials, and they command respect without calling unwanted attention to themselves. Sophisticated, refined, and powerful, all at once. Further, each system is personalized with the original owner's name on the serial badge.
Our exhaust systems are handbuilt works of art, are award winning, and are what your Porsche deserves.
Please note that due to the use of high flow catalytic converters, this exhaust is
for racing use only
.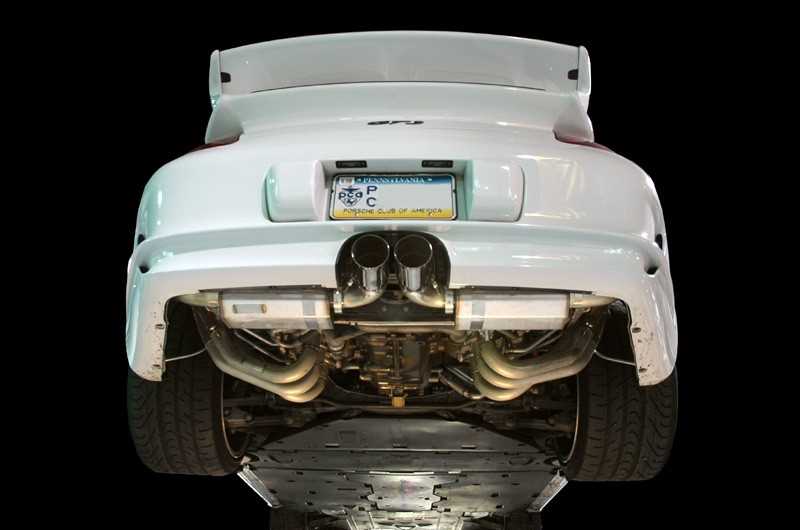 | Make | Model | Submodel | Engine | Drivetrain |
| --- | --- | --- | --- | --- |
| Porsche | 997.1 911 | GT3 | 3.6L | |
| Porsche | 997.1 911 | GT3 RS | 3.6L | |
| Porsche | 997.2 911 | GT2 | 3.6L | |
| Porsche | 997.2 911 | GT2 RS | 3.6L | |
| Porsche | 997.2 911 | GT3 | 3.8L | |
| Porsche | 997.2 911 | GT3 RS | 3.8L | |
---
We Also Recommend
---