AWE S-FLO Carbon Intake | Audi S6 | S7 | 4.0T
$1,14900

$1,149.00

Save $60.47
Availablity: Backordered, Contact us for accurate ETA
---
Low Prices. Price match guarantee
Guaranteed Fitment. Always the correct part
In-House Experts. We know our products
Superior Selection. Extensive catalog
---
AWE Tuning Product Description
The S6 / S7 S-FLO Carbon Intake VERSION 2.0 IS HERE!
Full floating carbon construction, no silicone. The AWE S6 / S7 S-FLO Carbon Intake features full carbon fiber construction allowing smooth transitions of airflow from the grille inlet to the turbo inlets. By deploying a new grille-mounted air box inlet, and utilizing the factory accordion turbo couplers, the S-FLO Carbon Intake floats in place under heavy torque situations, preventing strain on the carbon fiber.
Unlock power, and look good doing it. Presenting the AWE Tuning Audi S6 / S7 S-FLO Carbon Intake:
Proven power on Stage 1 and Stage 2 cars, with and without downpipes
Full carbon fiber airbox, with honeycomb mesh window for higher power applications
Max gains of 24 hp @ 3250 rpm and 36 ft-lbs of torque @ 3150 rpm, crank (Stage 2 software + downpipes)
Max gains of 15 hp and 19 ft-lbs of torque @ 4020 rpm, crank (Stage 1 software)
Durable and washable high-flow AWE S-FLO Filter included
Perfect integration with OEM inlet ducting
Smooth transitions from full carbon fiber airbox inlet and turbo inlets
Retains stock mounting locations
UV-stabilized resin and clear coat
Perfect fitment - guaranteed
No Check Engine Light Guarantee
The S-FLO Filter
The included AWE S-FLO Filter is designed specifically for the S6 / S7 S-FLO Carbon Intake to ensure easy service and to maximize airflow by sitting in the direct path of ram air from the grille. This increased air flow unlocked maximum gains of 24 hp @ 3250 rpm and 36 ft-lbs of torque @ 3150 rpm, at the crank, with Stage 2 software and high-flow downpipes.
Power Testing
The S6 / S7 S-FLO Carbon Intake has been power and quality tested on the stock setup as well as under aggressive stage two conditions which incorporated high-flow downpipes. The S6 / S7 S-FLO Carbon Intake produced healthy gains in all scenarios, and has withstood long-term real-world testing for quality and performance.
Add in our new enlarged, integrated honeycomb-meshed port located on the top of the S-FLO's air box, and you've got optimal airflow even when pushing higher-than-stock boost levels.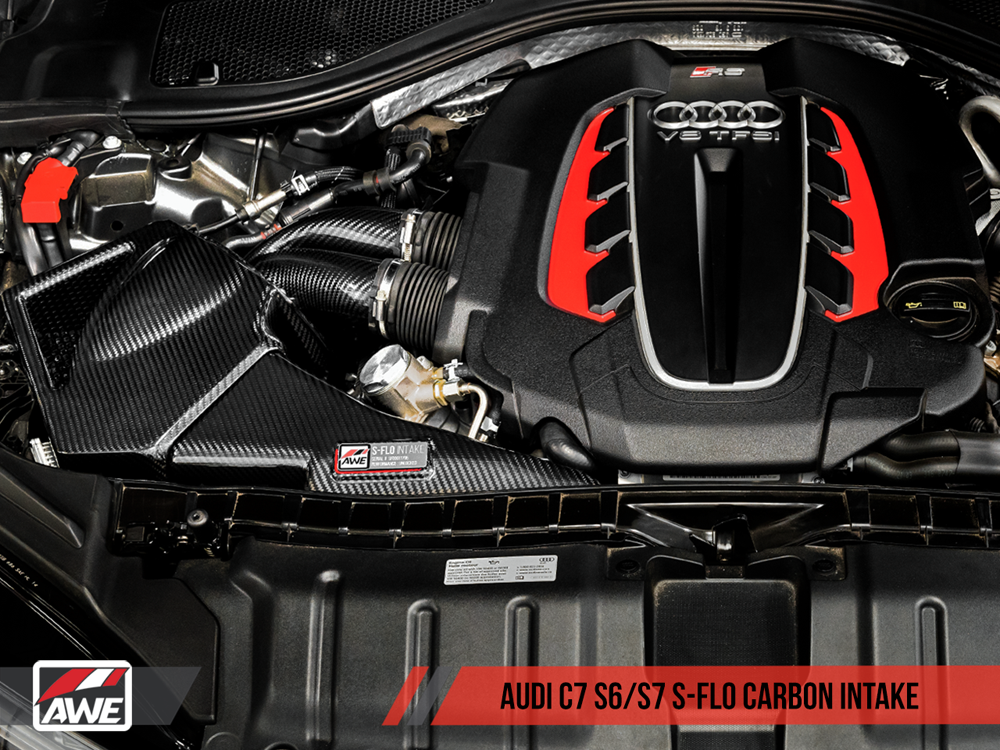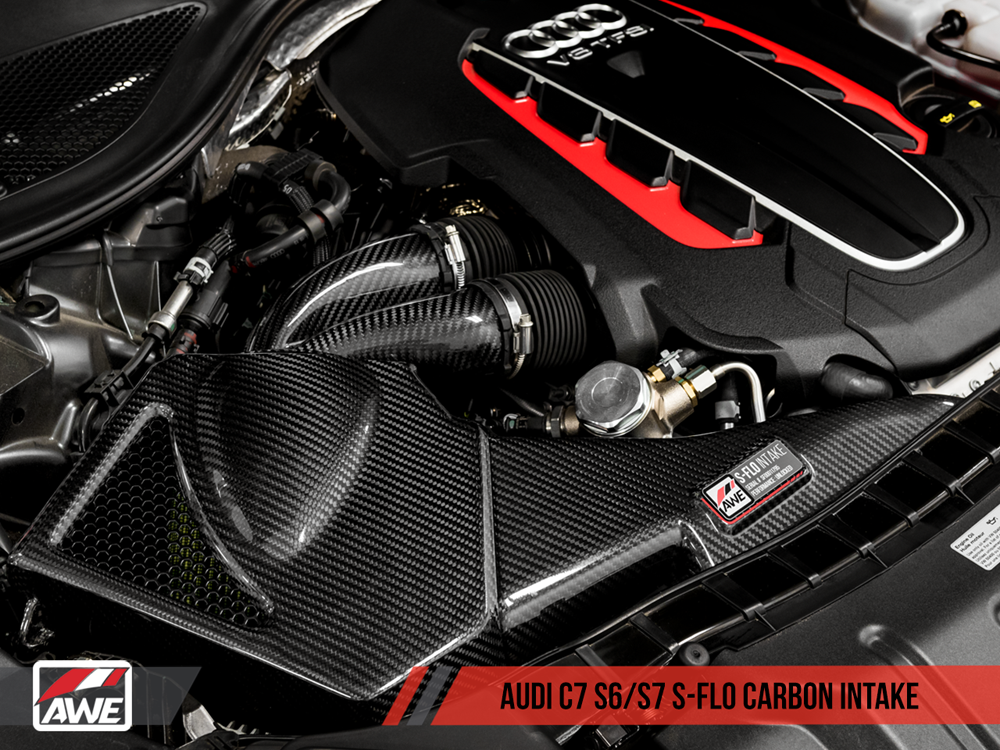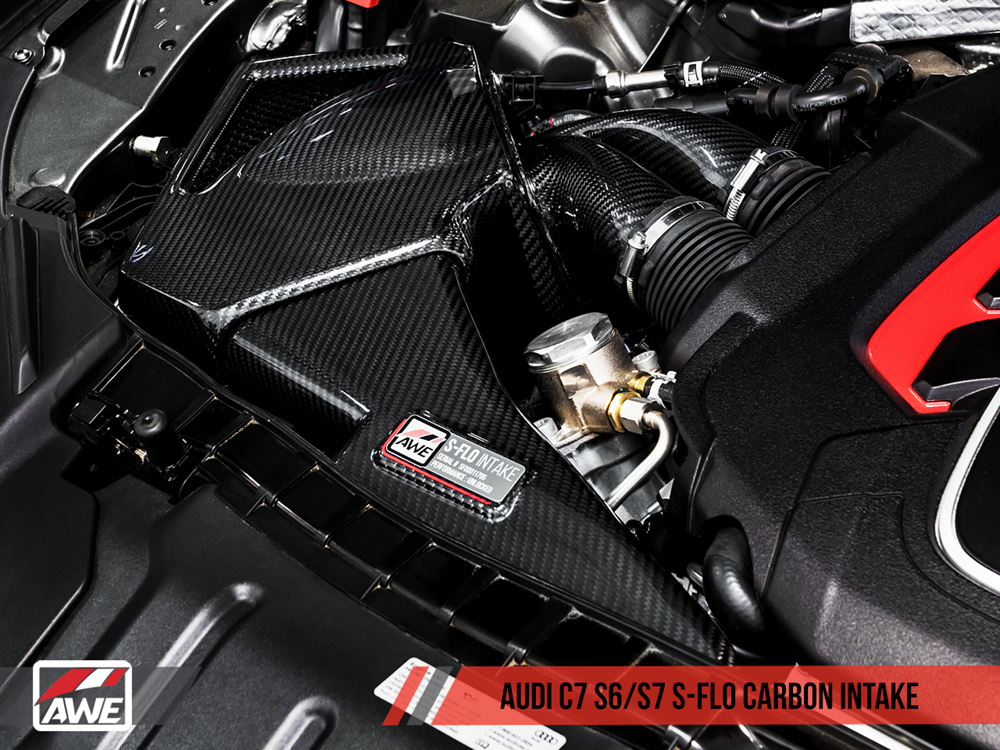 | Make | Model | Submodel | Engine | Drivetrain |
| --- | --- | --- | --- | --- |
| Audi | C7 S6 | | 4.0T V8 | |
| Audi | C7 S7 | | 4.0T V8 | |
---
AWE Tuning has one vision: To Unlock Performance. From award-winning handcrafted performance exhausts to track-tested carbon fiber intakes and performance intercoolers. AWE state-of-the-art headquarters is located outside of Philadelphia, Pennsylvania. Since 1991, AWE's elite team of researchers, engineers, innovators and drivers have track-tested and introduced premium performance upgrades for some of the finest automobiles in the world, and specifically on Audi, Volkswagen, BMW, Porsche, McLaren, Mercedes.