IE Throttle Body Upgrade Kit
$79999

$799.99
0% Financing with Affirm
|
---
Low Prices. Price match guarantee
Guaranteed Fitment. Always the correct part
In-House Experts. We know our products
Superior Selection. Extensive catalog
---
Integrated Engineering Product Description
IE's Ultimate Throttle Body Upgrade Kit has been engineered for existing Dual Pulley Tuned Audi 3.0T Supercharged engines. This complete bolt-on kit completely removes the removes the factory restrictive throttle body and replaces it with a much larger 80mm throttle body and cast adapter that creates a smooth transition from the air intake to the supercharger.
FEATURES:
Maxes out horsepower and torque on dual pulley setups
Includes everything needed to bolt on 80mm throttle body
Free tune upgrade included with IE Dual Pulley Tunes
Direct fit install with IE Cold Air Intakes
High flow CNC machined cast aluminum throttle adapter
Plug and play throttle body harness included
YOUR STOCK THROTTLE IS ROBBING YOU OF POWER
Your factory-installed throttle body has a smaller inlet than the supercharger that functions perfectly fine on stock power levels. However, on higher power setups running dual pulleys, heat exchangers, higher octanes, and Stage 2 Dual Pulley ECU calibrations this small restriction becomes a major damn for airflow unable to keep up with aftermarket performance parts requesting more flow. By increasing the size of the throttle body with our smooth transition cast-aluminum adapter the supercharger can fully breathe to its utmost capability.
FREE ECU TUNE CALIBRATION
Throttle body upgrades require matching ECU software to run and perform correctly. IE's Throttle Body ECU Tune is available as a free upgrade for all existing IE Stage 2 Dual Pulley owners. Don't already own IE Dual Pulley? The Throttle Body update is also included with all Dual Pulley tunes when purchased at no additional cost.
OPERATES LIKE FACTORY
Your car will be up and running in no time, by simply flashing the Throttle Body Upgrade software and plugging in the new throttle body with the included extension harness. There are no electrical trick boxes or funky harnesses to give you issues.
SIZE MATTERS
Before the design phase, engineers performed flow bench and power tests of multiple throttle body sizes to determine the best throttle body size to include in our kit. This is a delicate balance. While easier to fit, smaller throttle bodies do not completely open up the factory restriction while larger 90mm throttle bodies resulted in no extra power gains. The included 80mm throttle body offers the most power available from a size standpoint when upgrading your throttle body.
SIZE IS NOTHING WITHOUT FLOW
The larger throttle body is only one part of the equation, simply creating an adapter plate and bolting on a larger throttle body creates abrupt changes and inhibits air flow. The included IE throttle adapter is cast and CNC machined from aerospace quality aluminum creating a smooth transition from the larger throttle body to the supercharger inlet.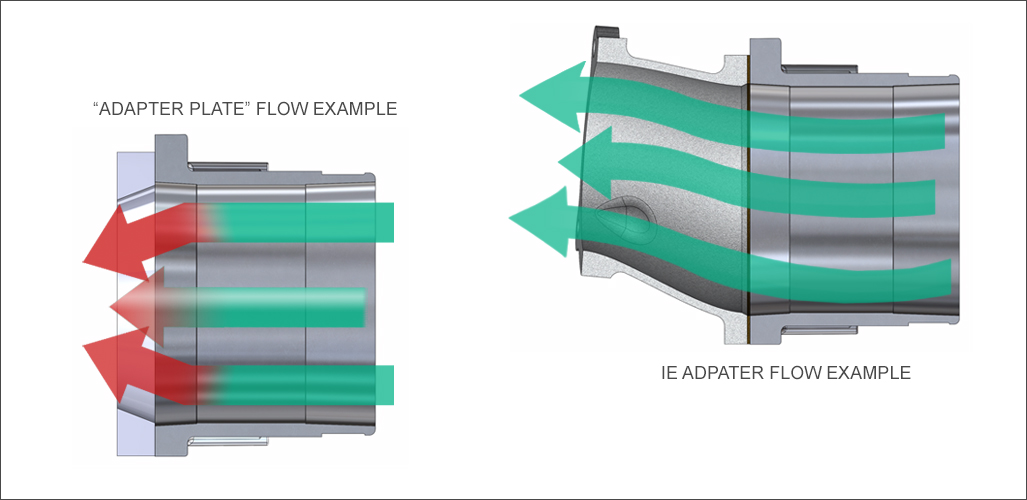 DIRECT FIT TO IE COLD AIR INTAKE
IE's Throttle Body Upgrade Kit includes a new air intake inlet hose that is a direct fit your IE Cold Air Intake creating a perfect transition from the intake velocity stack directly to the new 80mm throttle body. No modifications or extra adapters required!
EASY INSTALLATION
Installing your new IE Throttle Body Upgrade kit is easy and can be completed with basic hand tools typically within 1.5-2 hours for most users. You can read and download the complete install guide by
CLICKING HERE
About Integrated Engineering: Merging decades of experience with hundreds of hours of prototyping, engineering, dyno testing and daily usage evaluation has output exhaust systems that are the ultimate compliment to your performance car. IE products are proudly engineered, designed, and manufactured in-house, in Salt Lake City USA.
---
We Also Recommend
---